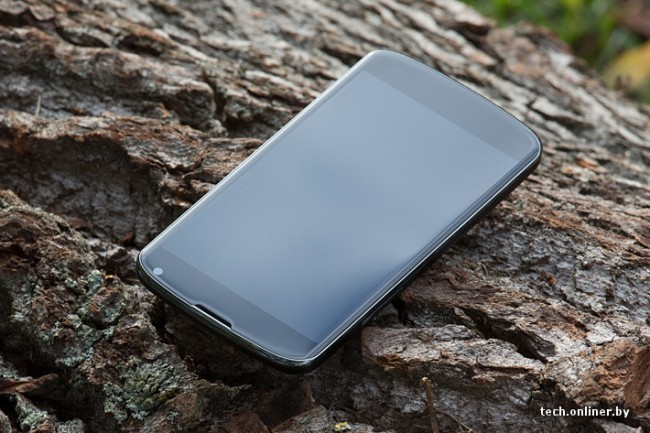 Onliner, a Russian news outlet, has had an LG Nexus prototype in its hands for a few days now, something we are all admittedly jealous of. Today though, they released a preview or semi-review of the device, giving us a look at what an unfinished prototype device is capable of. If you aren't picking up the sarcasm in that last sentence, let me rephrase. Their review mentions "prototype" and "buggy" more than I care to count, so don't buy into this as some definitive preview of LG's Nexus phone. 
Overall, they talk about low benchmark scores even though it has a Snapdragon S4 Pro quad-core processor. They mention reboots and buttons not always working, the fact that it's only running Android 4.1.2, and that Beam refuses to work. But again, it's a prototype, so nothing has been optimized. For all we know, this isn't even final hardware – and most certainly isn't final software.
But, because we like talking about Nexus phones, let's dive into the good parts of this, like how it compares to the Galaxy Nexus, the gorgeous display, and if the camera is decent or not.
Vs. Galaxy Nexus
Which one is the LG and which one is the Samsung? Tough to tell, right? Obviously, the one on the left is the LG Nexus, thanks to a moved speaker grill and a shiny silver iPhone 3GS-ish rim around the device. The form factor though, is almost identical. The only noticeable differences appear on the backside, which you can see below. The LG device does not have a hump, measures in slightly thinner, has an 8MP camera that sits off-center, and a mosaic tile finish. Oh, the front screen is not curved like on the last two Nexus phones from Samsung, something I actually enjoyed.
Camera
Here are 4 additional camera samples (resized) that are nothing to write home about. Onliner blames buggy camera software for the poor results, however, I'd argue for the 10th time that this won't change when the phone is officially released because the stock Android camera software has always been awful and almost always produced low-end pictures. Since this phone is running Android 4.1.2, maybe we'll see Android 4.2 at launch along with new camera software.
Display
Onliner was quick to point out that the display is beautiful and on-par if not better in ways to the iPhone 5's. Since the display is likely the same 4.7″ HD IPS+ display that is used in the Optimus G, this should surprise no one. They said that the display gets brighter than the iPhone's, has worse contrast, and shows excellent viewing angles. We'll talk more about this display soon, as we have two Optimus Gs in our possession.
Overall
It's a prototype. Do I need to say this again? Prototype. Nothing about this phone is final or official except for maybe the processor, display, camera sensor, and RAM. For all we know, the software will be updated, hardware could change, and Google may have surprises up their sleeves for the unveil. I personally love the look, as the Galaxy Nexus design is still one of my favorites. It'll be a great device, assuming it doesn't come with only 8GB of internal storage.
Via:  Onliner