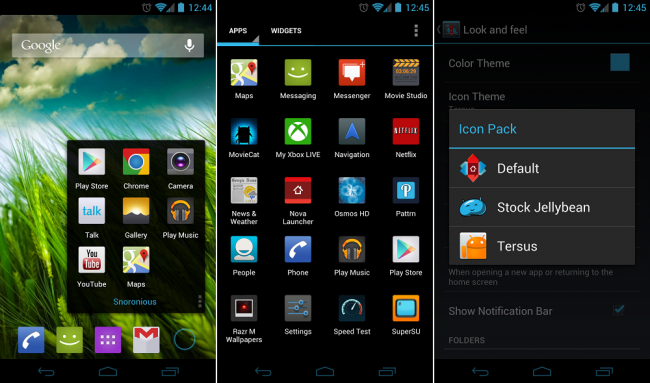 One of the cool things we can do with our Android devices straight out of the box is download a custom launcher and then apply icon packs that will drastically change the way an application's icon appears. Take the above screenshot for example – I have Nova Launcher installed and have Kovdev's Tersus icon pack applied. It gives each icon a uniformed square and minimal look. It's clean, pretty, and super easy to do. 
There's a few steps to this process. First, you will need a 3rd party launcher such as Nova or Apex. As a note, most icon packs only support either Nova, Apex, Go Launcher, ADW, LauncherPro, and a few others. When downloading an icon pack from Google Play, you can check its compatibility in the description. Download a third party launcher of your choice and let's get started on applying an icon pack.
Downloading and applying icon packs:
During this post, we'll be using Nova Launcher which is our favorite. You can download it here on Google Play.
1.  Find the icon pack you want to install on Google Play.
You can see a long list of them here, but we always recommend Kovdev's work. It's clean and there are plenty of options to choose from.
2.  Download and install the pack you have chosen.
3.  From the homescreen, locate the Settings menu of the launcher you are using.
Since we're using Nova, this may be slightly different from the launcher you're using. The Settings menu is located in the top right of the app drawer while it is open. Check pictures above for clarity.
4.  Hit "Look and Feel."
5.  Under "Icon Theme," choose the icon pack you have downloaded.
It will then automatically apply all of the existing icons and matching apps together. And that's it. It's a simple and easy way to customize your device to the way you want.
Applying a single icon from a pack:
But Tim, what if I don't want a full pack? I just want a single icon applied, how do I do that? Fantastic question and here is how to do it!
1.  Decide which icon you want to customize.
2.  Move it to a homescreen.
3.  Longpress on said icon.
Again, we are using Nova, so the instructions may differ given which launcher you are using.
4.  Hit "Edit."
5.  Then press on the application's icon.
6.  You will see a menu. Hit "Icon Pack."
From here, you will see each icon that resides in the pack. You can choose whichever icon you want to use for that app on a homescreen. It will not change the app's icon in the app drawer, but only on a homescreen where you applied it.
7.  Once selected, hit "OK."
If you have any questions, let us know down below.
*The rest of the Android Beginners' Guide is a one-stop shop for all of those new to Android.