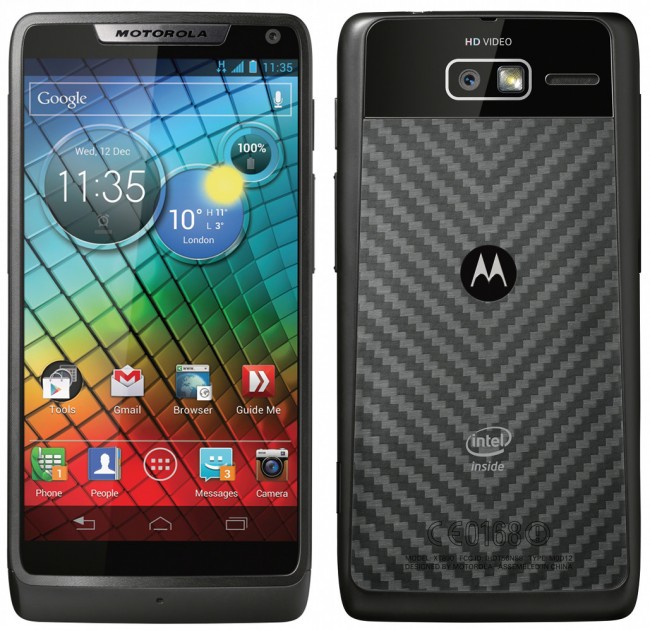 Motorola and Intel announced the first phone of their partnership this morning in London, dubbed the RAZR i. The RAZR i looks almost identical to the RAZR M that was announced a couple of weeks ago, but the insides are quite a bit different. This is the first mainstream device to run one of Intel's Atom processors, which has been clocked at 2.0GHz. While it's only single-core, it should be incredibly efficient and powerful enough to get any task done without hesitation. Battery life is also said to be "40% more powerful than the competition," whatever that means. 
As far as differences go, the only other major change from the RAZR M is the dedicated camera button that Intel and Motorola decided to include. As you may recall from CES and Intel's many presentations of their Atom processor ("Medfield" at the time), the instant-launch camera that can do multi-shot photos in a split second was one of the major selling features.
Other than that, it has a 4.3″ Super AMOLED "edge-to-edge" display, runs Motorola's custom skin atop Android 4.0, and is headed to Europe and Latin America in October. No word on a U.S. release at all for this phone, so if you wanted an Intel-powered device from Motorola, you may have to wait for the next one or import the RAZR i from a UK dealer.
http://www.youtube.com/watch?v=EC6X9azWHuw
Introducing the Powerful Motorola RAZR™ i with Intel Inside® and an Edge-to-Edge Display

Say hello to the full-screen phone

LONDON – Sept. 18, 2012 – Motorola Mobility in partnership with Intel Corporation introduced the powerful Motorola RAZR™ i with Intel Inside®: the new full-screen smartphone that fits in the palm of your hand. Its Super AMOLED Advanced 4.3-inch display spans from edge-to-edge with virtually no border – giving you more screen with less phone. RAZR i is the first smartphone that can achieve speeds of 2.0 GHz thanks to a fast Intel® Atom™ processor. Jump from a game to a text and over to a playlist, then off to browse the Web – all without stopping and on a long-lasting battery that is 40 percent more powerful than the competition1.

The power of Intel Inside means you also get an instant-launch 8-megapixel camera that can load in less than a second2. Just use the dedicated camera key so you get the shot you want. When there's action involved, multi-shot mode lets you snap 10 pictures in less than a second. And with the illuminated sensor located on the back and High Dynamic Range (HDR) capabilities, you'll get a great shot, even in challenging lighting conditions.

"Together with Intel, we're redefining what people can expect from a mobile device. A camera that launches in an instant, Web pages that load blazingly fast and a device that's the perfect balance of screen size and fit in hand," said Jim Wicks, senior vice president, Consumer Experience Design, Motorola Mobility. "RAZR i delivers just that when you put an Intel-fast processor in a beautifully designed phone and add in extra long battery life."

"Motorola RAZR i with Intel Inside naturally blends together the value propositions of high performance Intel Architecture and great battery life, Motorola Mobility device innovation and the Android™ platform," said Erik Reid, general manager, Intel's Mobile and Communications Group. "Intel's goal is to provide compelling technology options that translate into great user benefits and experiences. RAZR i is a great proofpoint in the collaboration and we're thrilled to be working with Motorola to bring this edge-to-edge experience enhanced with Intel Inside to people around the world."

Powered by Android™ 4.0, Ice Cream Sandwich (upgradeable to Jelly Bean), RAZR i puts the Google universe in your hand. Google Play™ gives you access to more than 600,000 apps and games, millions of books and thousands of movies. Get where you need to go with Google Maps for Android™ with free turn-by-turn directions and voice guidance. And when your hands are full, use Voice Actions for Android™ on RAZR i to compose a text, get directions, make a call, play a song…or simply Google something. RAZR i also features near field communication (NFC) technology so you can send contacts, links, maps and more directly to compatible phones with Android Beam™. Just hold the phones together and tap the screen.

Designed with premium protective materials, RAZR i is built to go everywhere. A diamond cut aircraft-grade aluminum4 frame surrounds the display, which is made of Corning® Gorilla® Glass, to deflect both scratches and scrapes. On the back, RAZR i is made DuPont™ KEVLAR® strong3. Spilled coffee? Caught in the rain? Don't worry. RAZR i is protected with a splash-guard coating—even on the electrical boards inside.

RAZR i already has a long battery – and when you set up the SMARTACTIONS™ battery savings rule your phone will automatically adjust to squeeze more out of each charge. Whether you want to maximize your last ounce of power, or prevent your phone from ringing during a meeting, SMARTACTIONS will automatically trigger specific actions. Motorola's exclusive Guide Me app comes preloaded with interactive, swipe-by-swipe tutorials for tons of features – no instruction manual required. Also unique to Motorola, the interactive Circles Widget allows quick access to notifications, weather, time and more.

Availability and pricing

Motorola RAZR i will be available in black beginning in October in select European and Latin American markets including the U.K., France, Germany, Argentina, Brazil and Mexico with more to be announced. A stand out white version will also be coming to select markets. Pricing and availability will vary by country, so please visit www.motorola.com/razri for the latest information.

For more information and multimedia assets for Motorola RAZR i, please visit our press kit athttp://mediacenter.motorola.com

About Intel

Intel (NASDAQ: INTC) is a world leader in computing innovation. The company designs and builds the essential technologies that serve as the foundation for the world's computing devices. Additional information about Intel is available at newsroom.intel.com and blogs.intel.com.

About Motorola Mobility
Motorola Mobility, owned by Google, fuses innovative technology with human insights to create experiences that simplify, connect and enrich people's lives. Our portfolio includes converged mobile devices such as smartphones and tablets; wireless accessories; end-to-end video and data delivery; and management solutions, including set-tops and data-access devices. For more information, visit motorola.com/mobility.