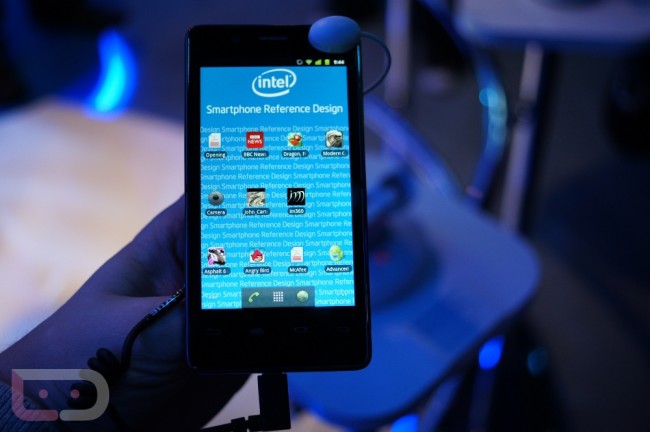 The Intel booth marked one of our last stops here at CES 2012, and what better way to start wrapping things up than by looking at one of the future chipsets you will see in Android phones this year. It's called Intel's "Medfield" processor and is a single-core chip clocked at 1.6GHz. Don't let the single-core part throw you though, so far from some of the benchmarks we have seen around the interwebs, this thing looks powerful enough.
For demo and display purposes, they slapped it into a Lenovo casing that may or may not ever see the light of day here in the States. The device itself ran Android 2.3 and had an 8MP camera that Intel's chip was able to use to shoot up to 15 pictures within a single second. It also ran some of the more processor intensive games on the market without a hiccup.
We listened and watched a live demo of the device for a few minutes, but then quickly grabbed it to see how it performed. What did we think? Tough to have any strong opinions on it since this was really just a dev device, but the design that Lenovo went with was decent. The fact that the camera can take burst shots in a single second is a bonus, along with the fact that this processor is supposed to use far less energy than some of its competitors.
Pics after the break, including details on Medfield.  
Quick reference guide:
What do you guys think? Excited for Intel to enter the Android game?