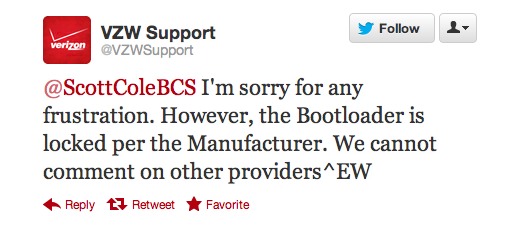 The weekend has come and gone and yes, the bootloader on Verizon's Galaxy S3 remains locked. We have root in a round about way, but as you have probably read across Android forums, this phone is going to take some time to crack. As of now, it's essentially like one of Motorola's many locked phones, only is a bit harder to swallow since Samsung had previously never locked a device down like this. Speaking of that, Verizon's official support account was quick to put the blame on Samsung over the weekend, something I think most of us have a hard time believing. 
Let me just break this situation down for a second. Samsung, to my knowledge, has never locked a phone on this level. They released versions of this specific device across the globe and on the 3 other major carriers in the U.S. and managed to leave the bootloader open. But you are telling me that they asked specifically for Verizon's version to be locked? And that makes any sort of sense, how? Motorola blamed Verizon. Verizon admitted to locking bootloaders and that they do not want "unapproved" software running on their devices. HTC blamed AT&T for locking the One X. It's always up to the carriers. But now Samsung, for the first time ever, is the one making a request? Give me a break.
In related news, Team Epic has managed to use kexec to boot up a custom kernel. For those not familiar, the kexec method has been used on Motorola devices for some time now. It's not pretty, but phones like the RAZR have thrived even with a locked bootloader. Also, a bounty thread has been started over at XDA that will go out to the first person to crack this sucker.
Oh, and one more thing. This will probably get you fired up: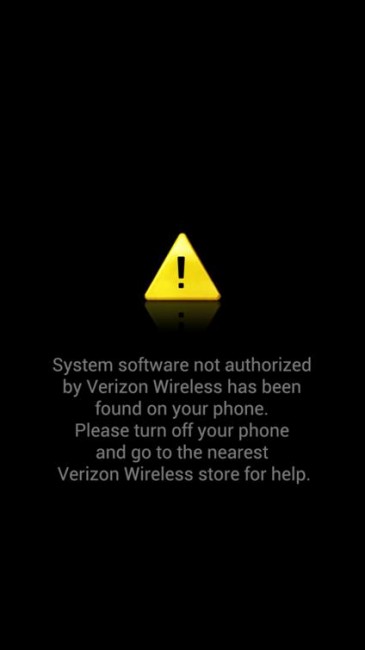 Via:  Twitter | Team Epic | XDA (bounty)
Cheers everyone!