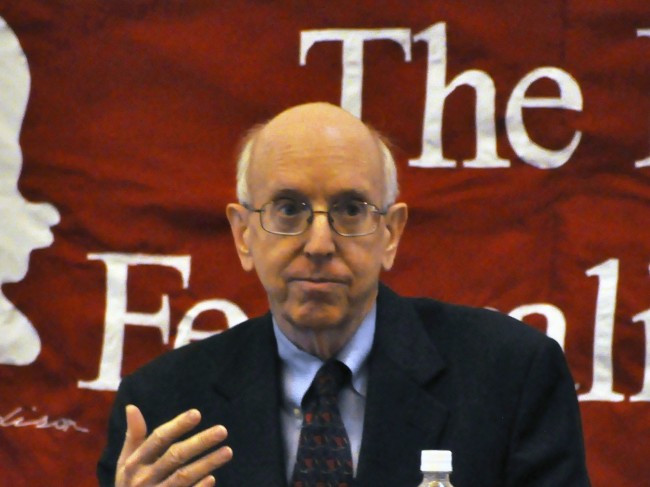 One of the best things about this ongoing patent war between every mobile phone company in the business, is that it's finally starting to attract attention to how crazy it is all getting. Judge Richard Posner recently threw a case out of his court that involved Motorola and Apple and did so with a little bit of a flair. Luckily for us, Posner is one of the most respected Judges in the States right now, and he has started to put his mind behind this whole patent system. 
Posner recently sat down for an interview after being thrust into the spotlight after his decision on Moto v. Apple. Posner has been seen by many in his field as a visionary rather than following the rules as they state. This outlook is what causes him to think critically about cases and come up with thoughts like "most industries don't need patents." Posner said that in the smartphone industry, patents are "a problem. You just have this proliferation of patents."
Posner doesn't think that patents should be eradicated all out, only in some industries. He says that in the pharmaceutical industry, companies stand to lose huge investments in successful drugs if patents aren't regulated. Software advancements cost much less to make, and companies gain more by being first to market with those advancements; something that would still be true even without patents.
Posner said that he was looking forward to presiding over the case of Moto and Apple, but ended up having to throw the case out anyway. "I didn't think I could have a trial just for fun," he said. It should also be noted that Posner accepted an upgrade to an iPhone recently, but said in his interview "I'm not actually that interested in becoming part of the smartphone generation," and that he only uses it to check email and call his wife.
The Judge seems to be onto something here. Having such a highly respected person to speak those thoughts certainly helps too, the question is: will there be a change any time soon? With the ban of the Galaxy Nexus and Galaxy Tab 10.1 still fresh in everyone's memory we will have to wait and see.
Via: Reuters