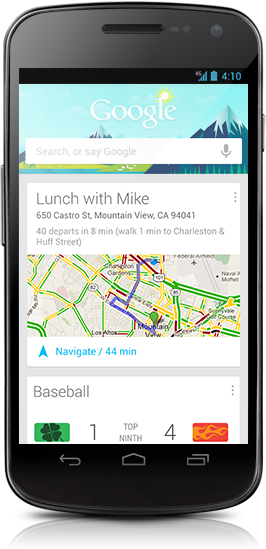 Now that Jelly Bean has been announced and is in the wild on the Galaxy Nexus, we thought we should talk a bit more about Google Now and how amazing it is. For those not fully familiar, Google Now is a part of Voice Search, but it goes beyond just searching by trying to learn from you and automate your life. It displays information through beautiful cards that have been created after assisting you and your phone's journey. Forget Siri and questions, Google Now does it before you have to ask. 
Here are a handful of things that Google Now can do:
Favorite sports teams:  Your favorite sports teams are tracked at all times. If they are playing, Now will have the game set up as a card for you to follow along with, live.
Weather:  No matter what your location is, Now knows the weather and displays it for you on a card.
Traffic:  When you wake up in the morning, Now will tell you how long your commute should take and if an alternate route is recommended. It will do the same when you come home too. It knows when you travel to and from places.
Reminders:  Now will remind you that you have a meeting along with directions on how to get there.
Transit:  If you are standing at a public transit station, Now will recognize this and tell you when the next bus or train will arrive.
Places:  While on the go, Now will recommend bars, restaurants and any other place that it feels you may enjoy.
When you first boot up Google Now, which is done by swiping up the home button on your Galaxy Nexus, you are asked to sign-up for the service. Once it has been activated, it should have already started learning from you based upon your previous Google searches. Doing more searches will then help get the party started as well.
If you have yet to flash any of the leaked Jelly Bean ROMs for the Galaxy Nexus, you may want to consider it. This Google Now stuff alone is reason enough to. For example, this morning, I woke up and it was telling me that it would take me 9 minutes to get to this Thai restaurant I had been a couple of nights before. It said that there would be a 3-minute delay in the trip which was normally 6 minutes long and that the weather was gorgeous. Now also had the Giants score up from last night's game. It was pretty wild.
Go get some Google Now.