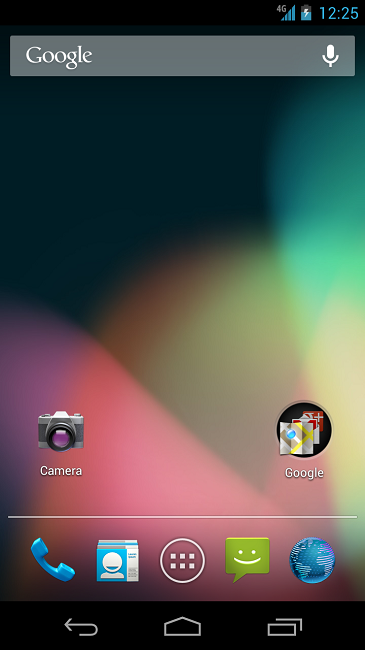 With Google beginning their roll out of a brand new OS, Jelly Bean, it's time for all Android lovers to start learning the tips and tricks. With the bump from 4.0 to 4.1, the notification bar is enriched with information from Google+ and Foursquare, Voice Search and Google Now are learning from our habits, and Android is now even recognizing the music we listen to. Since we have only had access for not even 24 hours, we're still learning too, so if you see something we haven't covered, please leave it down in the comments section below. 
What's this song: Google has introduced the "What's this song?" widget, which will most likely put SoundHound and Shazam out of business. Hold your device next to the source of audio and it will then recognize the song and inform you of what you are listening to. How sweet is that?
Google Now Settings: If you will begin to integrate Google Now into your daily life (which most people should), you will want to know how to tune and tweak it to allow for full-on customization. At the bottom of the Google Now display, there is settings menu which will bring an option for "Google Now Settings." Inside there is the heart of how Google Now operates on your device.
From here, you tell it about which cards are important to you. Do you travel more than most others? Then you'll want the airline info on the top rather than the Sports card. On the other hand, if you're a daily commuter, having Google Now learn your commute routine and being on the lookout for a quick alternative route is where this service will shine. There are many things that we are still learning about Google Now, so you can bet we'll be posting a ton more info on it as we continue to dig.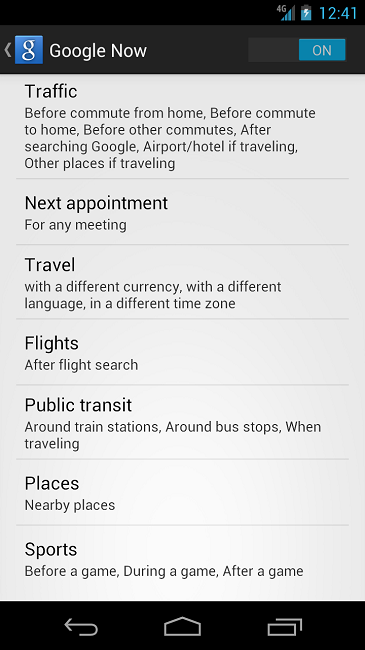 Camera and Gallery: Google decided to fancy up the camera and gallery application in Jelly Bean. By introducing a new deck-of-cards like view and swipe controls, looking through your past shots and through your lens at the same exact time is now possible. In the picture I have below, on the right side is my previous shot and on the left is what you see through the lens at that moment. It's definitely a nifty feature.
Hands Free Actions: A neat little trick in Google Now is the ability to simply say, "Google" without having to touch the mic icon. It will take you to Voice Search and from there, a world of information is at your fingertips. It makes for a nice trick to show off to a friend or fellow Android geek.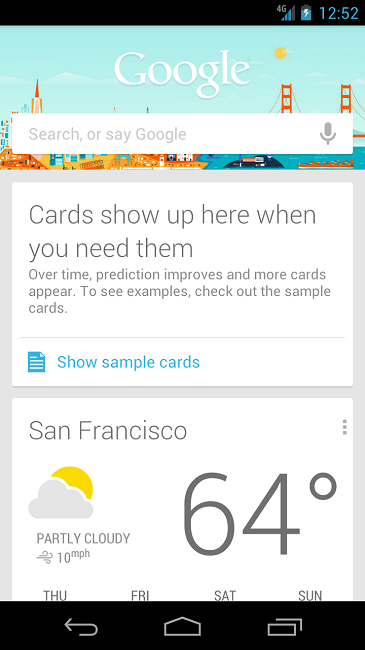 Two Finger Gestures in Notification Bar: Depending on the action, some notifications can now be expanded with a two-finger slide motion. For example, after having taken a screenshot, you can either have a small thumbnail on the left side or expand it with a swipe down gesture to see a larger thumbnail. This also works for emails and text messages which will truly come in handy for people who live from their notification bar (most Android users do).
Notification Bar Additions: As you may have noticed, the Android team took a lot of time to make sure the notification bar is the place to be. With integration for apps like Google+ and Foursquare, interacting and taking care of business right from there is the new "in." If you miss a call, you can simply message or call back straight from the pulldown. To "+1" a photo that you were tagged in on Google+ is now also an option right from the notifications.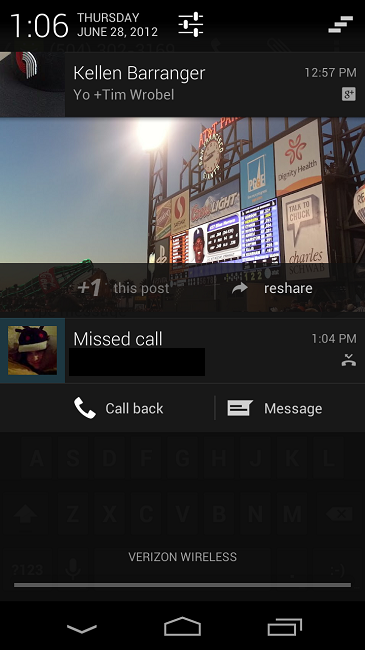 I don't think either Kellen or myself have come out and said how much we love Jelly Bean so far. The Android team has officially blown our minds and they personally told us there is plenty more to come. If you happen across some other tips or tricks for Jelly Bean, let us know in the comments below. We will also update this post if we find other goodies ourselves. Learning about new Android software is always our favorite part of the job. Enjoy the Bean if you're lucky enough to have it on your device already.