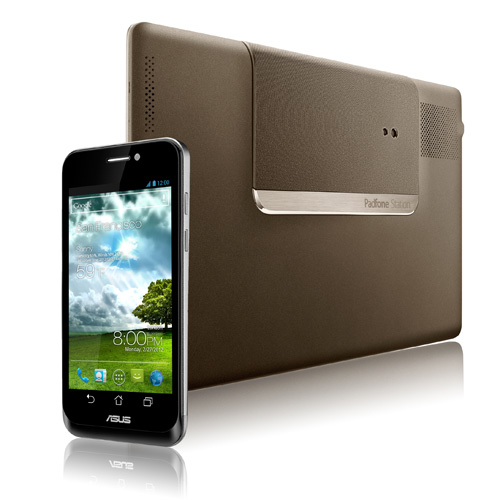 I've never actually touched the device, yet I'm enamored with it. I'm talking about the Asus Padfone. Aside from its ridiculous and silly name, this could be the perfect device. Or at the vary least, the beginning stages or blueprint for the perfect device(s). Not familiar with it? Watch the video below and then come back to us.
Why do I want the Asus Padfone so badly? Well first off, I'll admit that tablets are just not my thing. I can't find a place for them in my life even with as many times as I have tried nor do I want to shell out for the next barebones Android slate that will be upstaged in a month. However! If I could have a cheap shell of a tablet that I could simply snap my every day phone into, that's a win. See, one of the problems with having a tablet and a phone separately, is that you sort of have two different lives. Cloud services have helped this a tad, but for the most part you have photos on one and not the other, some apps here but not there, text messages over there yet not here, and so on. If you could take your phone that has it all though, and simply dock it into a tablet shell, you just solved the problem, didn't you? 
Second, it has top of the line specs:  1.5GHz dual-core Snapdragon S4 processor, 1GB of RAM, 4.3″ qHD display, 16/32/64GB of storage, 8MP F2.2 camera, and runs Android 4.0. The battery inside the phone itself is only 1520mAh, but you get another 6600mAh out of the tablet dock which Asus claims will give you up to 66 hours of life. Think about that for a second.
Third, how cool is that pen that allows you to answer calls while in tablet mode? Phone docked and can't get to it while it rings? If you have their little pen with microphone and speaker, and you can take the call through it.
Lastly (and probably most importantly), let's not forget that while docked, the tablet would be able to use the data plan that your phone is already attached to, leaving you with a mobile phone and tablet experience on the go. No tethering involved, no separate data package for 4G on the tablet – nope, this is an all in one data machine. Well, assuming carriers don't try to stop this action in fear that it may take off and continue to ruin their already incredibly low and embarrassing tablet sales numbers.
To me, this really is an amazing creation by Asus, maybe their best yet. They took Ice Cream Sandwich, the first version of Android to connect both phones and tablets, and then showed exactly what that means. As a phone, you get the phone version of Android 4.0. When docked, it automatically flips to the tablet UI version of it. It's brilliant.
Now, if only we could get Asus to announce some sort of global rollout. We thought April for select countries, but it's now mid-May and we are without it, even after seeing unboxings within the last week. From what we know, the word "LTE" has never been attached to it, so this may be another device that you can only get Stateside by ordering overseas and importing.
Do you share my enthusiasm for the Padfone? Is it too gimmicky? Is the name an automatic killer?
http://www.youtube.com/watch?v=-gjxrjKzfr0