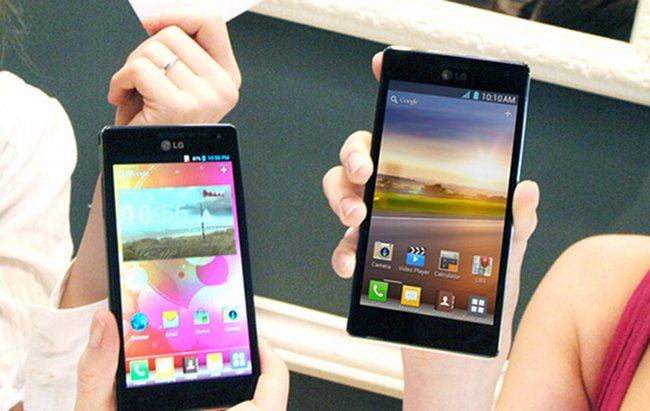 There are absolutely zero surprises coming from LG at next week's Mobile World Congress now thanks to some lengthy hands-on videos that Italian site Telefonino posted today. LG had already announced each of their major products to unveil – Optimus 4X HD, Optimus Vu, and Optimus 3D Max – but we had yet to really see them in the wild or in any sort of lengthy overview. 
The first video we have below is for the Optimus 4X HD, which is one of the world's first Tegra 3 quad-core devices. It also sports a 4.7″ HD IPS display, 1GB of RAM and runs Ice Cream Sandwich. After cruising through this video briefly, we get one of the first looks at an OEM skin over the top of Android 4.0. While I've never been a fan of LG, the fact that this phone is so buttery smooth thanks to the Tegra 3 chip has me almost getting over the fact that it looks nothing like ICS. OK, that's a flat out lie. The LG skin on here is not pretty, BUT, how freakin' fast is this phone? If you have spent any time whatsoever with an LG device in the past (including the Spectrum), you will not find a better example of how an OEM skin can completely bog down a phone. That is clearly not the case here with that Tegra 3 chip inside which should excite you all.
And did anyone else notice the new lock screen? Kind of cool actually. Try suing LG for that, Apple.
Optimus 4X HD
!
The Optimus 3D Max is next and is exactly what you would expect, another 3D phone. It's fast enough in this demo with its OMAP4430 processor, has some fancy 3D carousel stuff going on, looks sharp, and runs Gingerbread. The skin that LG has gone with is an odd take on their previous skins, but for the most part looks to include all of the annoyances that we have seen in previous handsets. It's definitely not the new skin that has been slapped onto the 4X HD.
Optimus 3D Max
The Optimus Vu is the last video below and is one that has left us speechless. I have no idea who they are trying to market this too (5-inch 4:3 display?), but I would love to sit down with the marketing research crew that decided to give it the thumbs up. What a silly phone. But hey, we all love choices, right? Just sit back and enjoy this one from afar.
Optimus Vu
Via:  Android and Me, Telefonino