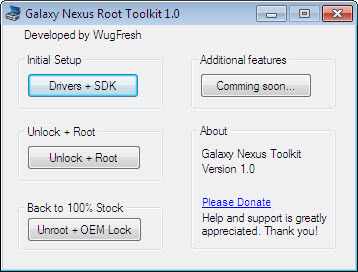 We tried our hardest to force you into installing the Android SDK and learning some simple adb and fastboot commands in order to unlock and root your Galaxy Nexus, but we know that not all of you have the time to do such a thing. So for those that need a quick option to unlock and root or unroot and re-lock, this is the tool for you. Created by long-standing Android mind WugFresh, this tool will get you all of the SDK files and Samsung drivers needed to begin, followed by options to get you on your way to your first ROM or return you back to stock. It doesn't get any simpler than this.  
Download:  WugFresh's Tool [mirror]
Here are WugFresh's instructions for how to use this:
*Windows only.

1.  Install the program by double clicking the GnexRootToolkit.sfx.exe

This will extract the contents to %PROGRAMFILES%\GnexRootToolkit
Place shortcuts on your Desktop and Start Menu\Progarms
Launch the program for first use

2.  Use the Drivers + SDK option first to install and configure the necessary components to your system
3.  Click the "Unlock + Root" or "Unroot + OEM lock" buttons depending on what you want to do

Simply follow onscreen instructions; it should be self explanatory

4.  Note that the "Unroot + OEM lock" procedure can also be used to just flash back to stock without re-locking

Simply follow onscreen instructions, and when it gets to the re-locking procedure… just exit the script.
For reference or specifics on what this tool does, you will want to check out our bootloader unlocking instructions along with our instructions on how to return back to stock. After all, Wug did find his inspiration for the tool from our guides. 🙂
Via:  Galaxy Nexus Forum