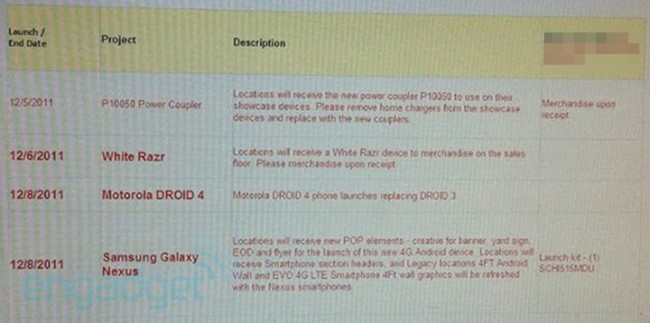 In case you missed our report from last Friday, we were told by a number of reliable sources that December 9 would likely be the launch of the Samsung Galaxy Nexus on Verizon. We mentioned that it sounded odd being a Friday and all, but that was what we were hearing over and over again. So last night and this morning, two new reports surfaced that echo that same date. I don't want to say that it has been signed, sealed and delivered, but it is certainly looking like we are close to closing this deal.
Stores should be receiving there shipments over the next couple of days (seen here), and then from there it is anyone's guess if Verizon is going to announce anything. We have heard rumors that this one may just sneak by with a slight nod from VZW PR and nothing more. Then again, we could hear something official this afternoon. You just never know anymore, especially when it comes to this phone.
Price is almost guaranteed to be $299 on-contract for the 32GB version. 
On a related note, we also have a DROID 4 launch date mention in the screenshot above. We had previously reported back in November that December 8 could be the launch of this phone, but have since been told differently. Tough to imagine that Verizon would launch the D4 in two days without having mentioned it even once. They just announced their new XYBOARDs and white RAZR this morning – seems like that would have been a perfect time to mention a phone that would be out on Thursday. It could still happen, but the chances of it getting bumped to later in the month are pretty good. December 22 is what we are hearing as a current target.
*Note – Yes, the screenshot above says "12/8/2011" for the Nexus, but it is referring to when marketing materials will go up.
*Note 2 – Why does that screenshot say "EVO 4G LTE Smartphone"? It could be a marketing term.
Via:  Engadget, RootzWiki