There she is, folks. The Samsung Galaxy Nexus – the first Ice Cream Sandwich device on the planet. My GSM (non-Verizon) version arrived about 2 hours ago, which was just enough time to unlock the bootloader and start making it my own. That's right, the beauty of a Nexus device, is the fact that with 2 simple commands in adb, your phone is completely unlocked and yours to do with as you please. There is no waiting for the community dev group to figure out a way to bypass it or for you to risk bricking your phone. Unlocking a smartphone doesn't get any easier than this. And this is one of the reasons we can't stop talking about it and why long-time Verizon customers are going to be beside themselves when the LTE version finally hits. 
First Impressions
I'll have a hands-on video up hopefully later today, but will throw some thoughts down here first. The G-Nex so far, is living up to expectations. The feel in hand is better than you can imagine. It's light being a Samsung device, but not necessarily cheap feeling like some Galaxy SII models. The screen is gorgeous and may blow your mind at first boot when the animation takes up the full 4.65 inches. The camera is actually faster than I remember from the ICS unveiling presentation. There really is zero shutter lag – instant pics. It's ultra-thin. The multi-color notification light is an added treat. I'm loving every ounce of it so far.
Ice Cream Sandwich
Since I loaded up the Nexus S Android 4.0 port a few weeks back and have kept up with the most recent builds, I feel as though I have a good handle on how it works, yet it's still a completely different experience on this phone. Since there are no physical home/back/menu keys, you get to see the new buttonless menu system that was built into ICS. It may take a little getting used to, but it adds a new flair to Android that was so needed after a year of sort of stale development.
The OS itself is incredibly fluid and easy to use for someone that has even a tad bit of Android knowledge. For those that haven't experienced Android, this shouldn't take all that long to get to know, but we'll be doing our best to help them with some tutorials over the next few weeks. There are some quirks and features that you may not know about unless someone actually showed them to you.
Again, more to come on the ICS front.
Bootloader
To get back to that bootloader remark I made up top, I just wanted to show you this picture that I took within 5 minutes of having the phone.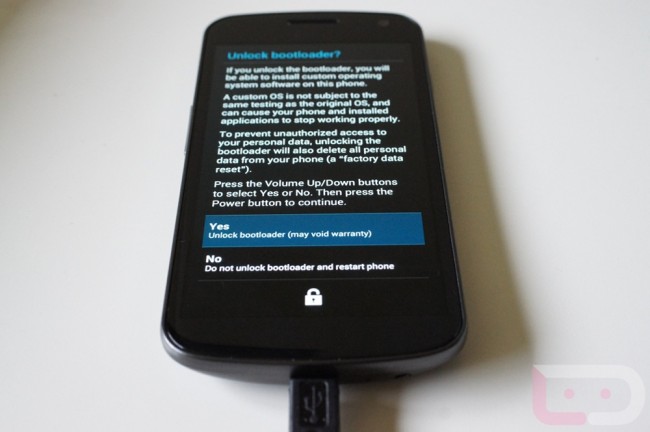 Hook your phone up to your computer with USB debugging on. Open up an adb command prompt. Type in "adb reboot bootloader." Then "fastboot oem unlock" and your phone is unlocked. Well, after you say yes to the screen that you are seeing above. That's it. And from here forward, I can do just about anything I ever dreamed of doing to the software of this phone. So if you are planning to root, hack, ROM, etc. your Nexus, I recommend that you do this step before really diving in as this will wipe your phone completely.
More on the way…