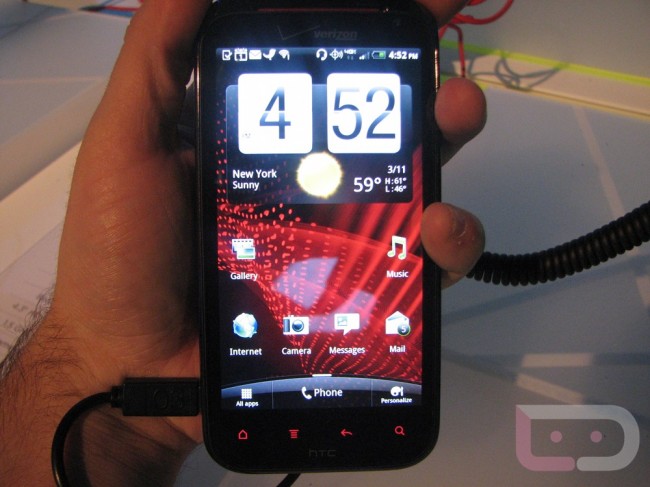 Yesterday afternoon, HTC revealed their latest 4G LTE smartphone – the HTC Rezound. We were on hand for the announcment and were able to get some quality time with the device. With a slew of new Verizon 4G LTE devices on the horizon it is both a difficult and rewarding time to be a consumer. Should you go for the thinnest phone, the newest operating system, or the one with the best speakers? Find out what we think about the Rezound after the break.
Screen
The screen is a 4.3-inch HD Super LCD beauty. The screen is bright and vibrant with colors that pop. HD displays are the future in mobile devices and we as consumers are lucky. As for PenTile, I held the device and examined it closely and I didn't notice it. If it does indeed have it, it is not noticeable whatsoever.
Specs
The Rezound sports a 1.5GHz dual-core Qualcomm processor with 1GB of DDR2 RAM. Additionally, it has 16GB of internal storage plus a pre-loaded 16GB microSD card. The Rezound has an MHL port on the lower left side which is used for HDMI-out. On the backside you will find a 8-megapixel f/2.2 camera with a 2-megapixel front. I may be a it biased because my Droid X's camera has never been one to call home about, however the Rezound took stunning photos.
Beats Audio
One word to describe the Beats Audio integration, incredible. Beats Audio is damn good, it's damn good in my HP Touchpad, it's damn good in my mom's laptop, and it's damn good in the HTC Rezound. HTC and Beats have taken mobile audio to the next level and only good things will come from this.
Build
It's an HTC smartphone, plain and simple. That may be a good thing for some and a bad thing for others. It isn't that thin but it also isn't that heavy. It does feel a bit large and bulky in your hands. However, the red buttons are a welcomed addition to the device.
Bootloader
I asked an HTC rep at the event about the bootloader and the woman looked at me like I had five heads. Rumors are circulating that it is unlocked, however Verizon has the final say and we all remember their decision on the DROID RAZR. We have reached out to HTC for confirmation and we will update you once we hear back.
Battery
While other manufacturers are switching to non-removable batteries, the Rezound offers a 1620 mAh removable one. The battery is quite possibly the most disappointing feature on the device. When you look at the competition, the DROID RAZR has a 1780mAh and the Galaxy Nexus has a 1750mAh, the Rezound cannot compete – although it is a step up from the 1400mAh found in the Thunderbolt.
Sense 3.5
It's Sense, and it seems like it will always be the same Sense. I enjoyed it on the Incredible but times have changed and Sense really hasn't. Each user-inferface has some cool and unique features but I can't see Sense 3.5 being a selling point. Personally I would choose BLUR or even TouchWiz, but that is just me. On a good note, while scrolling through homescreens there was no hiccups or lag whatsoever. As for bloatware, come on what do you expect?
Conclusion
There is no doubt that the Rezound is a top-level 4G LTE smartphone. The specs are quite impressive and with the inclusion of Beats Audio the sound is equally impressive. HTC said that the Rezound will come "Ice Cream Sandwich ready" and will be updated in early 2012. Additionally, the Rezound ships with a pair of red Beats Audio earbuds – making that $299 price tag easier to swallow. I highly recommend that you check it out on November 14.