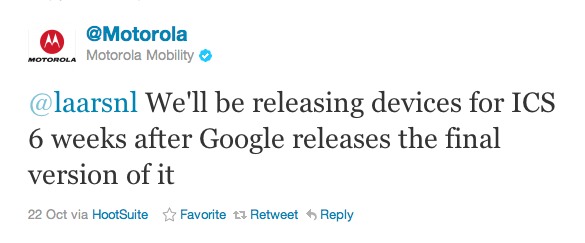 Update:  We received a clarification on this Tweet from Motorola. They do not plan to have Ice Cream Sandwich on devices 6 weeks after the new OS is released. Instead, they plan to announce a timeline for ICS updates within 6 weeks of Google releasing it. So that means that the DROID RAZR, Bionic and XOOM will be given time lines some time within 6 weeks of the ICS release. That make sense? Don't expect Android 4.0 by the end of the year – expect Moto to announce when they will have it ready.
According to Motorola's official Twitter account, they plan to either start releasing Ice Cream Sandwich to devices just 6 weeks after Google makes it available or they are ready to drop new ICS phones on us in that amount of time. The message is a little cryptic, but we are assuming they mean that their current lineup of phones will receive Android 4.0 six weeks from the time Google makes it available. Talk about a quick turn-around.
Does anyone else get the feeling that Moto has some sort of lock-down on the update process? They certainly do it faster than any other phone manufacturer on the planet right now. And remember that they originally had Gingerbread done for all of their devices back in June before realizing that a couple of major bugs needed to be fixed.
We have been told that the RAZR, Bionic and XOOM will get ICS – still no word on the rest of their lineup of phones including the DROID2, Global, Pro, DROIDX, DROIDX2 and DROID3. I would imagine that all of those phones are capable of running it though.
Via:  Twitter, Android and Me