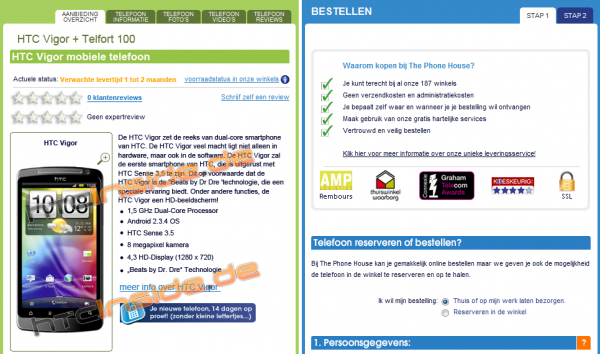 Update:  Definitely a fake screenshot.  And we know for sure since we have the actual first photos of the device here.
The HTC Vigor may have made its first semi-public appearance today through a Dutch phone retailer site called The Phone House.  As you can see in the picture above, the phone (although it could be a placeholder), looks a heck of a lot like a mash-up between the Sensation 4G and the Thunderbolt – the device it is rumored to be replacing.
This site is also giving us a set of specs that match up exactly to what we reported on at the end of last week.  The device could sport a 4.3″ HD screen, Android 2.3.4, Sense 3.5, 8MP camera, 1.5GHz dual-core processor, and come pre-loaded with Beats by Dre technology.  A true beast.
Let's be honest though, there is also a chance that this image is fake since the page can no longer be accessed from The Phone House's site.  Either it was removed, or someone just felt like using our reported specs to be an internet troll.
What do you guys think of the look?  And with HTC preparing to unlock bootloaders on a variety of devices, how can this not be on your list of next possible devices?
Via:  HTC Inside