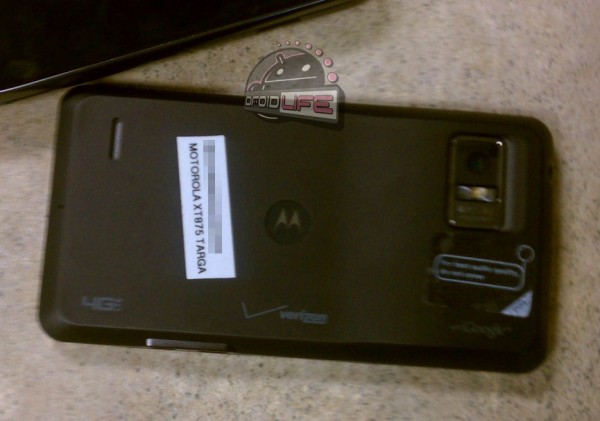 Up until today, we had only seen a render of the backside of the DROID Bionic, after Amazon posted up a whole batch of accessories for it.  Thanks to one of our fantastic readers though, we now have real pictures of what you can expect come early September when this device makes its way into Verizon stores.
From these pics, we aren't finding out a whole bunch of new stuff other than the look.  It appears to be similar soft-coated material to that used on the DROID3, which we are definitely fans of.  We're also getting a really good look at that hump that has for the most part avoided us.  It appears to start much more in the middle of the device than say the DROIDX or X2, but that's likely for it to house that 4G LTE chip.
This also gives us a pretty good size comparison of it to the DROID Charge.  At first glance our jaws dropped because it looked like it was substantially bigger than Samsung's LTE device, but then realized it was just the angle of the photo.  Pretty sure it'll be 4.3″, my friends.
I know that many of you are fed up with having to wait so long for it to arrive and after seeing specs, but I'm really diggin' this new look.  Your thoughts?  
Update:  And we have a front pic to add to the bunch.  It's definitely blurry, but that's how this game works some times.  Could it be 4.5″?  Puppy looks huge next to the Charge…
Update 2:  DL reader @billnewl put in some work on this comparisons to see if the screen on the Bionic really is bigger and possibly 4.5″.  You guys tell me…
Update 3:  We have added a second gallery over at this post.
Cheers ___!