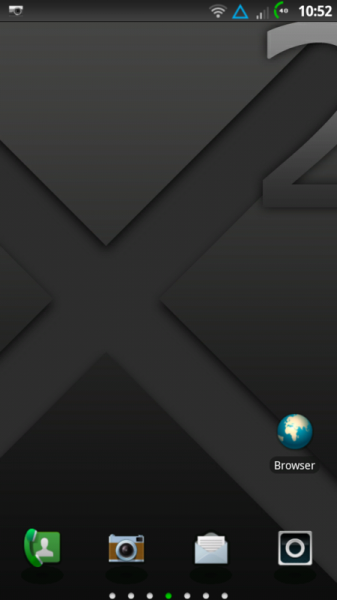 Big news in the land of the DROIDX2 today; the first ever ROM has been released by c21johnson and it actually looks pretty sharp.  Sporting an all black theme along with a ton of "performance based enhancements," this should make DX2 users extremely happy for the time being.  The ROM is definitely a "beta," but that doesn't mean it can't be your daily driver.  In fact, the bug list is almost non-existent and doesn't appear to include anything major.  Go grab it!  
Download:  minX_b2-0.zip
Instructions:
1.  Root your DX2 using Gingerbreak.  [Instructions]
2.  Install Clockwork Recovery using Bootstrap. [Instructions]
3.  Drop the ROM file from above onto your SD card.
4.  Using Bootstrap again, reboot into recovery.
5.  Make a backup of your current setup.
6.  Wipe data and cache/factory reset.
7.  Install zip from SD card, and pick the ROM file that you downloaded.
8.  Immediately after first reboot, go in and change the keyboard away from the default.
9.  Enjoy!
Full support can be found at this XDA thread.
Cheers Chris and Mike!