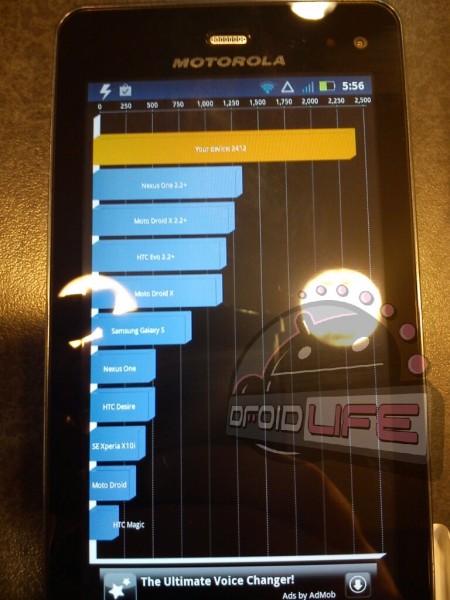 Update:  Just like we assumed, that benchmark was a first run.  We've received another batch that were done after the device warmed up a bit and the results are much more favorable.
I'm not going to start making excuses for the DROID3 yet, but I'm certainly hoping that this was a first run after its first boot up because this is embarrassing.  In the days of phones with dual-core processors (this phone being one), we've got to at least break 2000 on a Quadrant benchmark.  After all, single core devices that have been overclocked can certainly eclipse the 1700 mark.  To see what real benchmarks look like, you'll want to check out this post we ran for the Galaxy S II and the DROIDX2.
To be fair though, we know that most benchmarks mean nothing and we also haven't handled the device yet to run it through the DL set of tests.  So I'll try to hold back too many opinions, but what I will do though, is ask that all of our readers who received D3s early, post up their top benchmarks. This is not exactly what we were hoping to see from an OMAP4 – especially with the DROID Bionic likely running one.
Linpack score after the break.  
Cheers ShadowOfAnAndroid!