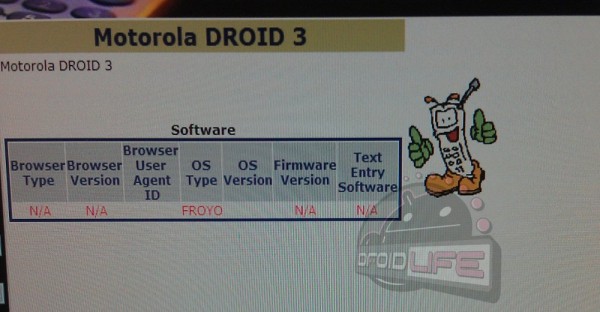 The DROID3 is looking more and more like the first real next-gen player of 2011 for Verizon, but if it ends up running Froyo at release, there better be a firm paddle to the rear of the person responsible for making that decision.  We're almost positive this phone will run on TI's new OMAP 4430 dual-core processor, sport a 4″ qHD screen, front-facing camera, 8MP rear camera, 5-row keyboard, and HDMI out.  So with all of this new technology tossed in, why go with last year's OS?  The original DROIDX just received GB – let's do the right thing here and release it with this phone as well.  OK, Big Red?
And of course we can also assume that this is just one bad type-o, except for the fact that we just saw the DROIDX2 hit the market running 2.2, so nothing would surprise us at this point.  No word yet on a release, but June is starting to get a lot of play behind the scenes.
Cheers ___!
______________________
Some of our best videos.