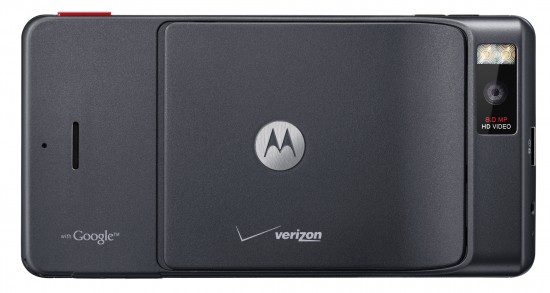 The official Gingerbread (v4.5.596) update for the DROIDX started last night for soak test members, but a version has already been released for rooted users thanks to @P3droid.  There are essentially two different methods to get you upgraded since there are a variety of leaks running on people's phones.  You'll want to read all of the instructions carefully and decide which one is you before proceeding.  
*WARNING* – Hate to throw a big warning at you, but you need to understand that all of this stuff is risky.  You need to understand the entire process before you begin.
Method 1 (if you are running a GB leak 588/591/595) [preferred method]:
There is a specific file below for your build that will upgrade you to .596.
*NOTE from P3 – IF YOU DO NOT HAVE THE MOST CURRENT RADIO .12P THEN YOU WILL NEED TO SBF BACK TO .340 AND THEN USE METHOD 2.
Method 2 (to upgrade from Froyo):
SBF back to 2.3.340, root the phone, and then apply the PART1 and PART2 files below.
Files:
[For Gingerbread Users] – ODEXED | DEODEXED
[For Froyo Users] – PART1 | PART2
__________________________________________
*Note 1 – When you finish with this process, whether you are coming from Froyo or a leaked GB, you will be on official .596 with root access.
*Note 2 – Files seem to be going up and down.  We'll do our best to update them, but you can find current ones all the time at the source link below.
Instructions (running Gingerbread 588/591/595):
1.  Download the GB file of choice from above and drop on SD card.
2.  Bootstrap and reboot into recovery.
3.  Install the .zip file just as you would a ROM or other file.
*install .zip from sd card > choose .zip > install.
4.  Enjoy!
Instructions (running Froyo):
*Phone must be in stock 2.3.340 state with root access.
1.  Your phone is running the 2.3.340 official Froyo Firmware.
2.  Your phone has been rooted.
3.  Your phone is using the Droid2 Bootstrap program (Do Not Use DroidX Bootstrap).
4.  Download both PART1 and PART2 files from above – drop them on SD card.
5.  Bootstrap into recovery.
6.  Install PART1, followed by PART2 without rebooting.
*You should not leave recovery until both files have been successfully flashed.
7.  Once both have finished, reboot your phone.
8.  Enjoy!
All credit to MyDroidWorld for the files and instructions.