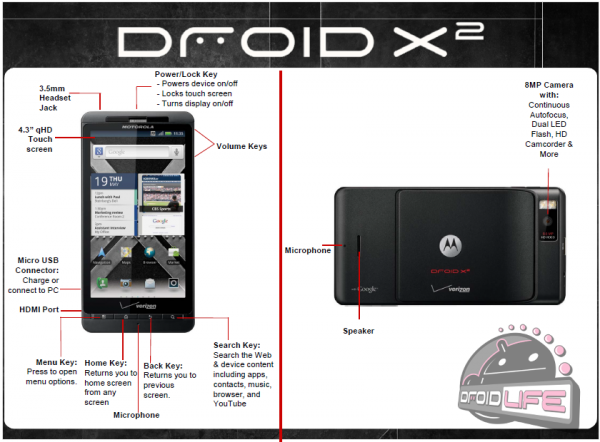 The Motorola DROIDX2 was rumored to originally be scheduled to release today, but with the push back of the DROID Charge, we were wondering if it hadn't been pushed back as well.  According to Verizon, that is definitely the case.  The new date for the launch of Verizon's first dual-core Tegra 2 Android beast will be May 26th with direct fulfillment orders starting on May 19th (which we're thinking means a pre-order is on the way).
The device will as you all know, have a 4.3″ qHD screen with a resolution of 960×540, dual-core Tegra 2 processor clocked at 1GHz, 8MP rear camera, 720p video capture, 1080p out, 8GB of internal storage, an 8GB pre-installed SD card, and a 1540mAh battery.
Oh and did I mention Gingerbread (Android 2.3) in the title?  If you look at the screen featured above and you own an original DROIDX, then you'll recognize that blue top bar as being 2.3.  And this only makes sense, especially with the possibly of GB rolling out to the original this week – we wouldn't want last year's model having a newer operating system than the freshly released version, would we?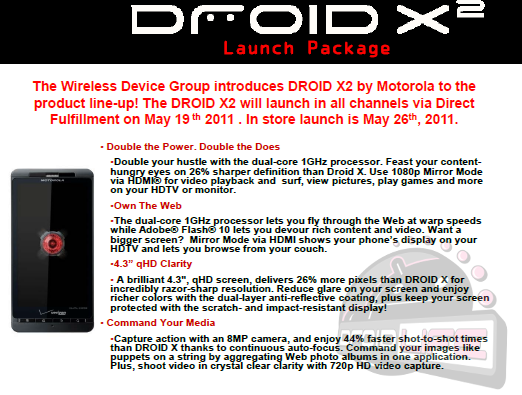 *Note – I do want to point out that the Bionic we saw at CES had the same blue Blur and was only running 2.2, but I can't imagine this would be the case here.
Update 5/12:  Just in case you needed anymore confirmation (via @TheDroidGuy):
Cheers ___!