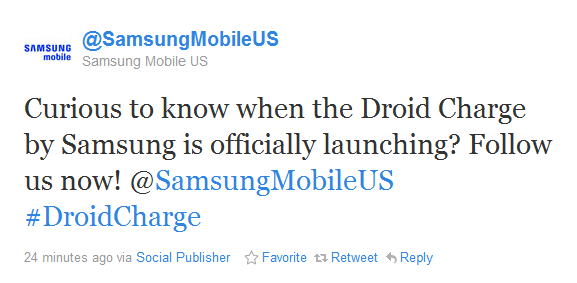 If you follow @SamsungMobileUS, then you probably noticed that they can't stop talking about the DROID Charge today.  In fact, over the last 16 hours, they've sent out almost 30 tweets having to do with this yet-to-be-released 4G LTE phone from Verizon.  The odd thing is, after we first reported that the device would be delayed from its April 28 launch date, we're still sitting here without a hint as to when the phone is actually coming out.  And we still haven't been given a reason as to why it was delayed, but have a pretty good idea that it has to do with signal issues and not the major outage that went down last week.
But with all of this talk from Samsung, we're starting to wonder if tomorrow won't be the day.  After hearing word from one of our most reliable sources that Verizon is currently scheduled to release the DROIDX2 and LG Revolution next Thursday, I can't imagine that they would push this device out any further.  Hopefully we hear something by the end of the day.  
Oh, and here is a device overview from Sammie that we had yet to post:
Cheers @wynalazca!