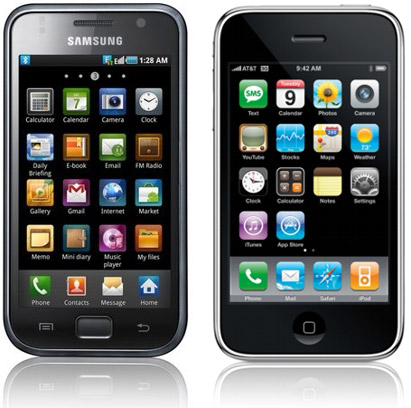 I hate for this to sound like I'm defending Apple here, but is anyone actually surprised at them suing Samsung?  Just look at the photo above of a Galaxy S device and what I'm assuming is an iPhone 3GS.  It has the same curves, same cheesy icons, same ugly dock bar and pretty much the same overall look in general.  When I reviewed the Fascinate back in September, I couldn't help but point out that it mimicked an iPhone, and many of you mentioned it as well.  Here is what Apple had to say about our Android friends from Korea:
"Rather than innovate and develop its own technology and a unique Samsung style for its smart phone products and computer tablets, Samsung chose to copy Apple's technology, user interface and innovative style in these infringing products," the lawsuit said.
So the Galaxy S line of phones I get, but not the Nexus S and Galaxy Tab.  The Nexus S may have curved corners, but just about every smartphone on the planet has those these days.  And the Galaxy Tab isn't even near the size of the iPad, nor does its UI look anything like iOS.  If Apple plans to sue Samsung over those devices, then they might as well start suing everyone.  Silly mobile industry.
Thoughts?
Via:  WSJ