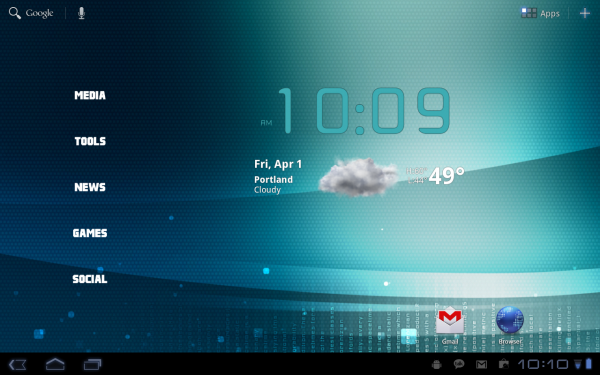 Just posted up the new Beautiful Widgets tablet version and noticed that a few of you were interested in the setup I have on my XOOM's main home screen and wanted to share.  It's really a pretty simple setup that involves CircleLauncher and a couple of quick custom icons.  I should point out that you can use almost any folder or app organizer for this as long as it allows you to use custom icons and are not necessarily stuck with CL.  Again, this is super simple, but here is a set of instructions to help you out.    
Download:  icons.zip
1.  Download the file from above and unzip it's contents onto your XOOM internal storage.
2.  Download and install CircleLauncher. [Download]
3.  From any homescreen, press the "plus" + button to add a widget.
4.  Choose CircleLauncher.
5.  Pick your launcher type, select apps, and style.
6.  When you get to "Launcher icon" make sure to hit the "Select custom icon" button.
7.  Now, sift through your gallery until you find the icons you downloaded from above.
8.  Choose whichever you need, and then finish up by clearing the "Launcher label."
9.  Repeat steps for multiple launchers.