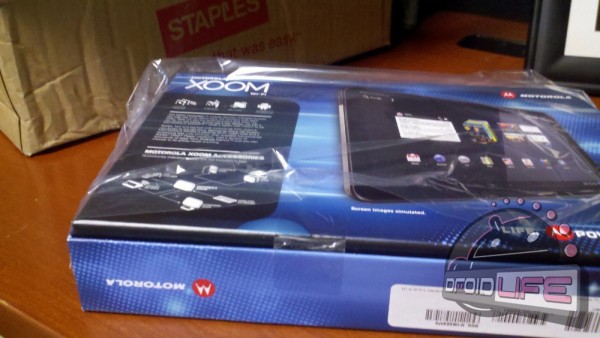 We were tipped to March 27th as being the day that the Motorola XOOM Wi-Fi would be available at Staples (variety of other retailers as well) for everyone to pick up, and that's definitely still the case.  But for one of our readers, March 25th is the magical day.  "How'd he swing that," you ask?  By calling the Staples sales number and placing an order over the phone rather than through their website which wanted to hold him to the 27th date.  Sneaky, sneaky.
Oh and if you were wondering what the color of the back piece would be, you can see it below.  
No silver back to be found.   Same black as the 3G/4G version.
And on another note, we're hearing that ABC Warehouse in the Michigan, Ohio and Indiana area will be selling them today if you swing by.  Apparently they are still on the truck, but could be available in the afternoon.
Cheers Chris and Jason!