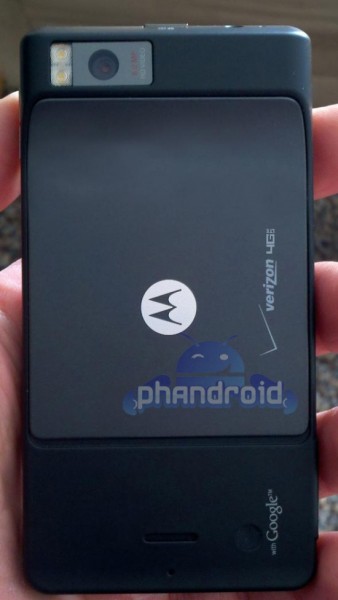 Our homies over at Phandroid received this photo a couple of days ago, and while we're all pretty sure it's fake, I did want to at least show it to everyone here at DL.  What does everyone think?  Fake or real?  It's lacking a camera button which is what we've been told has changed on the DROID X2, but the 4G LTE logo just looks a little odd, doesn't it?  We've seen a few people mention something about the weird circle down by the Google logo, but we saw that on the original DROIDX from back in its Xtreme days.
I will mention one thing though.  One of our readers hit me up just a day or so ago after running into a Motorola employee of some sort who was enamored with the DX2 (DROID X²), claiming that it would be a 4G LTE device and a better option than the BIONIC.  Craziness, right?
Feel free to weigh in below…
Update: Yeah, that photo is clearly just a 'shopped photo of one that the MobiZone leaked a while back.  (Cheers Scott!)
Via:  Phandroid
Cheers Phil!