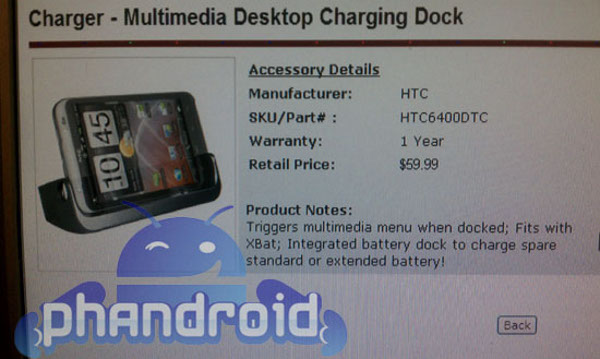 As a huge fan of desktop charging docks, this is great news, especially since the Incredible's couldn't seem to find any room on a store shelve during its life.  Our buddies over at Phandroid snagged a shot of the Thunderbolt equipment guide though, and it details a lot of the accessories that should be available for Thursday's launch including a multimedia dock.  It looks to be priced at $59.99, which is pretty standard for these types of docks.  We aren't sure yet if it'll have an HDMI-out port, and we're thinking it won't since the device itself doesn't, but they did call it "multimedia."  We'll keep our fingers crossed.
And hit up the source link to see word on the extended battery that will be available.  I know some of you are battery freaks and have been dying to know when or if it will come out.  Yay accessories!
Via:  Phandroid
______________________
Some of our best videos.