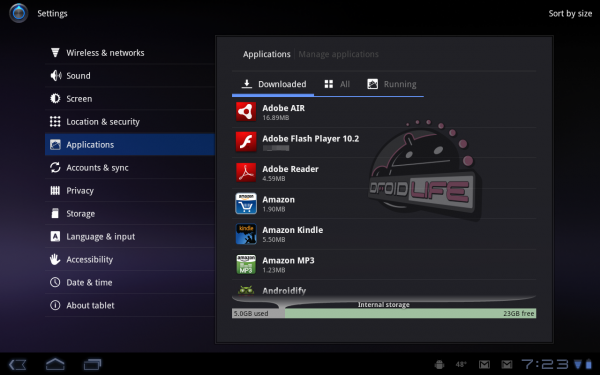 The first update for the Motorola XOOM started rolling out today and with it comes support for Adobe's Flash 10.2 which we've now learned will be released to the Android Market on March 18.  This is big news, especially for all those complaining about the XOOM coming half-baked or not finished.  So you all had to wait 3 weeks for it?  Everyone going to live?  
Here are the new capabilities of Flash 10.2:
Hardware accelerated video presentation for H.264 (Android 3.0.1+ only)

Flash Player 10.2 leverages the Stage Video rendering pipeline to enable users of Android 3.0 tablets, like the MOTOROLA XOOM™, to enjoy smooth playback of high-definition Flash video content on the web.   Users will experience reduced CPU usage and higher frame rates for existing H.264 video content.

Deeper integration with the Android browser rendering engine (Android 3.0.1+ only)

Deeper integration of Flash Player and the enhanced Android 3.0 browser delivers faster and better rendering of rich, interactive web content resulting in a browsing experience similar to the desktop.

Flash Player can now render content as part of the web page along with other components such as HTML, images and gif animation. As a result, users will experience:

Improved scrolling of web pages;

Uncompromised viewing of rich, immersive content in the way intended by the page designer, including support for instances where HTML and other web content is composited over Flash Player rendered content.  Flash Player rendered content will continue to be placed in a separate window on top of HTML in the Android 2.2 and 2.3 browsers, as these browsers do not support the new Android 3.0 browser rendering model.

Enhanced performance for the latest smartphones and tablets

Experience performance improvements designed to take advantage of the current generation of multi-core, GPU-enabled processors to deliver Flash videos, games and other interactive Web content on the latest smartphones and tablets.  For a list of upcoming Flash-enabled devices which show off the latest performance improvements, including the MOTOROLA ATRIX™ 4G, MOTOROLA XOOM™ and LG Optimus 2X, please click here.

Automatic soft keyboard support

Users of touch screen devices will enjoy a more optimized experience interacting with rich content that requires keyboard input.  This feature simplifies the development of multiscreen applications that require keyboard input, making it easier for developers to optimize desktop applications for mobile devices. A new ActionScript API enables developers to automatically launch and display the soft keyboard.

In addition to its availability on Android Market, the production GA release of Flash Player 10.2 will also be available pre-installed on many upcoming tablets and smartphones or delivered as an over-the-air (OTA) update to existing devices in market.
Via:  Adobe Flash Blog