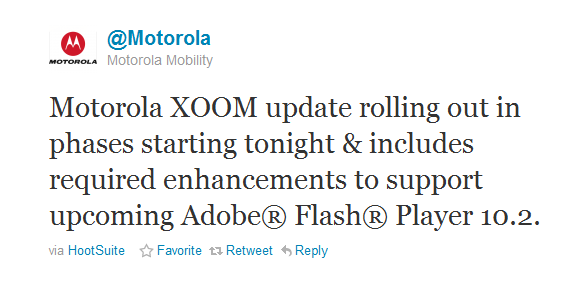 This just went out through the official Motorola Twitter account a few minutes ago.  Flash 10.2 is about to be on the way.  This first Motorola XOOM update will prepare your device for Flash.
Below are the details of the update…  
Update:  The Motorola Support  forums offered this bit of info.  Rooted and unlocked devices might need to SBF back to stock tonight…
We are happy to announce that an over-the-air update to the Motorola XOOM software will start rolling out in phases tonight to all Motroola XOOM owners on the Verizon Wireless network.

You can receive the update over a 3G or a WiFi connection. If you are not connected via WiFi or 3G, or your Motorola XOOM is off when the notification arrives, you will see the notification when you next connect to a wireless network.

If you have unlocked/rooted your Motorola XOOM, you must restore it to the standard software load and relock your device to receive the notification. Owners who have unlocked/rooted can find more information here in the Motorola Xoom unlock / non-standard area of Motorola Owners' Forums.

More information on the contents of the update can be found here.
Update 2:  The MotoDev team is putting together the tools and instructions for you to be able to re-lock your device. They are hoping to have them up today and we'll post them as soon as they are live.  In the mean time, be sure to register over there.
Update 3:  We've posted XOOM re-locking instructions.
Update 4:  There is a strong possibility that you won't have to unroot or re-lock your device to receive this update.  We're digging for further confirmation.
Developing…
Via:  Twitter