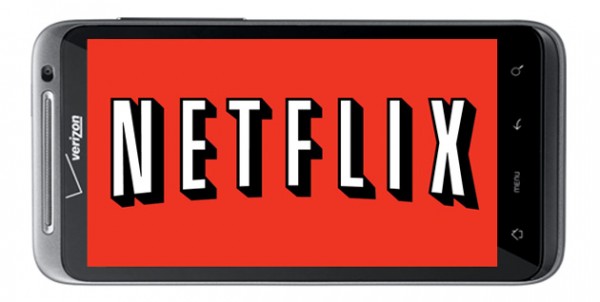 Qualcomm happened to mention to our friends over at Android and Me during CES that the Netflix app would be coming to Android phones running their Snapdragon processors first due to their grasp on security and today, they confirmed it at MWC.  We had seen a random video of an LG Revolution running the Netflix app back at CES and since that device runs on a Snapdragon, it is no longer surprising.  No word at all on when phones with Tegra 2's or other processors might see streaming movie goodness, but I'm sure they are working a hard as they can do get it done.  So yeah, that means no Netflix any time soon on your XOOM.  And maybe HTC has something up their tablet sleeve for their event tonight?
Not that you needed one, but I guess this gives you another reason to consider the Thunderbolt.  It's almost guaranteed to have Netflix support before anyone else in the Android game.  
Qualcomm's Snapdragon Platform to Help Enable Instant Streaming from Netflix on Android Devices

Fulfills Netflix Security Requirements Necessary to Bring Netflix Application to Snapdragon-enabled Android Devices

BARCELONA, SPAIN – February 14, 2011 – Qualcomm Incorporated (NASDAQ: QCOM), a leading developer and innovator of advanced wireless technologies, products and services, today announced that future Android devices powered by the Snapdragon™ platform will have access to instant streaming of TV shows and movies from Netflix.

"We're excited about this collaborative effort to help bring the Netflix application to Android devices running on the Snapdragon platform," said Liat Ben-Zur, senior director of software strategy and ecosystems for Qualcomm. "Qualcomm is in a unique position to help bring the most optimized and advanced Android apps to market through working closely with the strong ecosystem of Snapdragon developers like Netflix."

Snapdragon processors are designed to deliver dynamic performance and media protection features in a turnkey package, allowing the devices they power to more easily pass through the approval process required for Netflix certification. Additionally, Netflix video decoding is handled by highly efficient dedicated hardware, extending battery life and improving picture quality.

"We're pleased to expand our mobile offering by providing our members an app for TV shows and movies streaming from Netflix to Snapdragon-enabled Android devices," said Bill Holmes, Netflix vice president of Business Development. "Qualcomm's expertise in mobile hardware/software integration and their collaboration in the consumer electronics space makes them the perfect fit in bringing Netflix to a range of Android handsets and tablets."

Qualcomm will demonstrate the Netflix application for at the GSMA's Mobile World Congress in the Company's exhibit, located in Exhibit Hall 8, #8B53.

About Qualcomm
Qualcomm Incorporated (NASDAQ: QCOM) is a world leader in 3G and next-generation mobile technologies. For 25 years, Qualcomm ideas and inventions have driven the evolution of wireless communications, connecting people more closely to information, entertainment and each other. Today, Qualcomm technologies are powering the convergence of mobile communications and consumer electronics, making wireless devices and services more personal, affordable and accessible to people everywhere. For more information, visit Qualcomm around the Web:
www.qualcomm.com
Corporate Blog: www.qualcomm.com/blog
Twitter: www.twitter.com/qualcomm
Facebook: www.facebook.com/qualcomm

Except for the historical information contained herein, this news release contains forward-looking statements that are subject to risks and uncertainties, including the Company's ability to successfully design and have manufactured significant quantities of Snapdragon components on a timely and profitable basis, change in economic conditions of the various markets the Company serves, as well as the other risks detailed from time to time in the Company's SEC reports, including the report on Form 10-K for the year ended September 26, 2010, and most recent Form 10-Q.