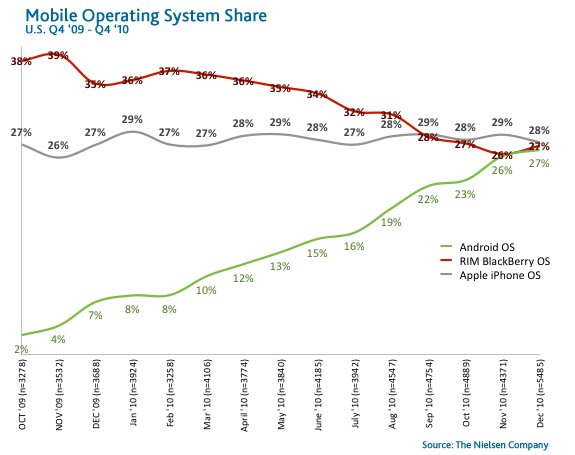 Talk about painting a vivid picture with a simple graph.  At the end of 2010, Blackberry, Android and iOS all took up the exact same amount of the market for mobile operating systems.  What's fascinating, is the fact that Android started the year at just 8% and in 12 months almost eclipsed them all.  Obviously we'll see them jump past the other two once January's numbers come out, but man, talk about total market domination almost over night.
The i*hone heading to Verizon will give iOS a good spark in February and March, but with 300,000+ Android phones being activated each day, there really isn't anyone that can compete with them at this point.  Just look at the graph below and you'll understand what I mean by that.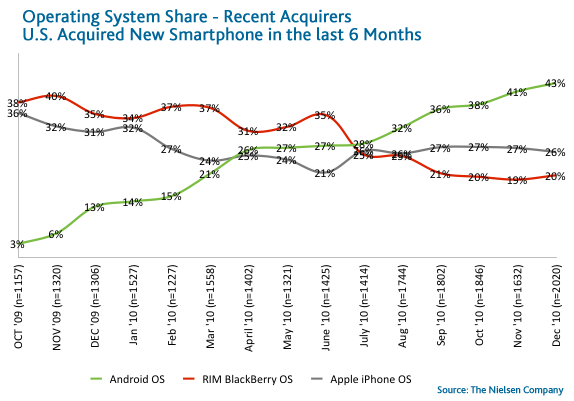 The gap between "recent acquirers" is so huge now that a single device on any carrier will not be enough to make up the difference.  Apple fans will argue that the VZW version will harm Android's growth, but only a fool would actually believe that.  There are too many great Android options from each carrier available right now and also on the way that will help this juggernaut continue to crush the competition.
Source:  Nielsen