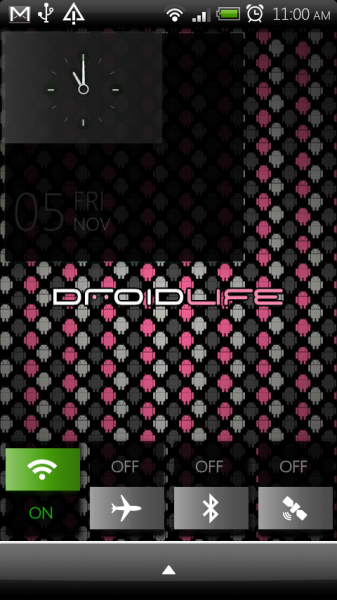 Sick of those plain ol' Blur widgets on your Droid X?  Our buddy Bgill55 has taken what sounds like hours upon hours of time to help you out by theming all of them with a nice dark color scheme.  As you all know, we love Bgill's work and the fact that he's a fan of RubiX Blurry 1.0 which we have running on our DXs.  This widget themes were needed more than we can express and highly recommend you check them out.  Oh, and don't forget to donate to Bgill to thank him for all of the amazing work he's contributed to the Droid community.  
Download:   BlurWidgets_blackbar1.1.2.zip
Instructions:
1.  Download the file from above and drop it on your SD card.
2.  You have to be rooted.  (Instructions)
3.  You need to run Koush's Bootstrap Recovery.
4.  Your phone needs to be running RubiX Blurry 1.0.  (Rom Manager)
5.  Open the DX Bootstrap and "boostrap" the recovery.
6.  When that finishes, "reboot recovery."
7.  Once your phone boots to Clockwork Recovery, scroll down to "backup and restore."
8.  Choose "backup" to make a clean backup of your phone.
9.  When that finishes choose "install zip from SD card."
10.  Then "choose zip from SD card" and find the BlurWidgets.zip file, select it and hit "yes."
11.   Your phone will apply the themed widgets.  When it finishes, reboot and enjoy!
Full support thread and donate link here.
Cheers Picolas!