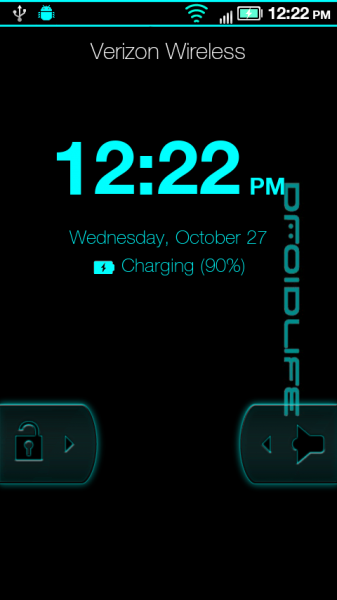 Team Incognito is at it again with an another amazing Droid X theme.  We'll keep featuring their work until someone else comes along with something hotter.  Please say hello to Xpired by Rola and JsinLegacy which might be their finest work to date.  Xpired runs on top of RubiX Focused 1.0 only, and is a Blur-less ROM that has few rivals.  Just wait until you see the boot animation.  
Download:  Xpired1.0.0.zip
Other goodies: Droid Life Wallpaper | Launcher Button
Instructions:
*You have to be running RubiX Focused 1.0.  Find it in ROM Manager under "DRod2169".
1.  Download the file from above and drop it on your SD card.
2.  You have to be rooted.  (Instructions)
3.  You need to run Koush's Bootstrap Recovery.
4.  Your phone needs to be deodexed or running a deodexed ROM.  (Instructions)
5.  Open the DX Bootstrap and "boostrap" the recovery.
6.  When that finishes, "reboot recovery."
7.  Once your phone boots to Clockwork Recovery, scroll down to "backup and restore."
8.  Choose "backup" to make a clean backup of your phone.
9.  When that finishes choose "install zip from SD card."
10.  Then "choose zip from SD card" and find the Xpired.zip, select it and hit "yes."
11.   Your phone will apply the theme.  When it finishes, reboot and enjoy!
Full support thread including donate links found here.