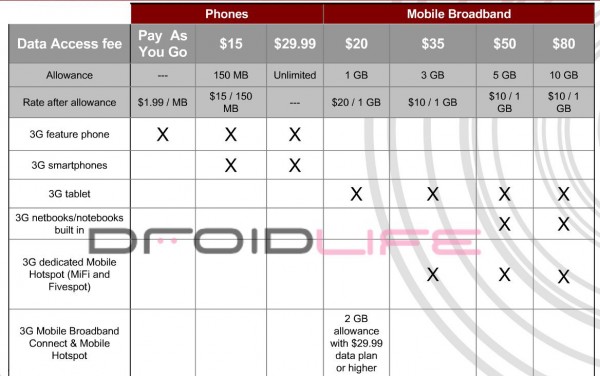 If you were looking for a simple chart of the new 3G smartphone and tablet pricing plans headed to Verizon, then the one above should cover it all.  You'll see the two tiers that will be available as of tomorrow (10/28) for smartphones, plus the new month-to-month tablet options.  So far I'm liking the options that Verizon is providing especially when you compare them to AT&T's.  (Pictured below.)  
For those considering the drop to the $15/150MB plan, you need to understand how overages work.  If you eclipse the 150MB mark at any time during the month, you will be charged an additional $15 for an extra 150MB and will not be given the option to step into a pay-as-you-go tier.  It is also my understanding that if you then eclipse your 300MB allotment, chances are that you will be charged $15 again for each 150MB after that when you could have just purchased a $29.99 unlimited plan to begin with.
That all make sense?  Verizon has created a data calculator to help you decide which plan to go for.
Here is how they compare to AT&T:
We also heard that their will be 4G price lifts, but no specifics were given.
Thoughts?