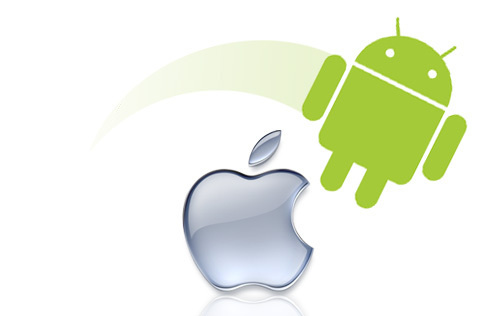 On the heels of Steve J*bs Android rant during yesterday's Apple earnings call, Millennial Media released their monthly Mobile Mix which reports on mobile marketing trends and has numbers that won't help his case.  According to their network, Android revenue exceeded i*hone-only revenue for the first time ever, even with strong iOS impression growth.  We all expected this to happen at some point, since we hear month-after-month about record activation numbers for Android, but not even Millennial Media predicted it would happen this soon.  They offer a few reasons for the sudden jump…  
Devices versus operating systems – We are only comparing iPhone and Android devices, not operating systems. iOS includes not only iPhone, but also iPad and iPod Touch. Currently, Android only consists of Smartphones on our network. Of course, as Android-powered tablets and other consumer electronic devices hit the marketplace in the near future, that will certainly change.
Less inventory coupled with soaring demand – We saw higher average fill rates, click-through rates and prices on Android applications and mobile web inventory than on iPhone inventory last month. Why? We believe this occurred because there are fewer applications available on Android than on iPhone (though the gap is narrowing), and the mix of applications available on Android is still different than the mix on iPhone. This means less inventory to meet current advertiser demand, resulting in higher fill rates and prices.
Reaching a diverse set of Smartphone buyers – Many Android users are often first-time Smartphone buyers. We believe some advertisers are paying a premium to reach those users early in their Smartphone experience. Our advertisers have also shared that Android allows them to reach a diverse set of consumers across all major carriers, making the platform highly desirable and increasing demand for the platform.
Download the September Mobile Mix Report here.
There is no stopping the Android train at this point.  And remember, we just told you about 6 new devices headed to Verizon for the holidays.  How many new iOS devices will there be?  None.