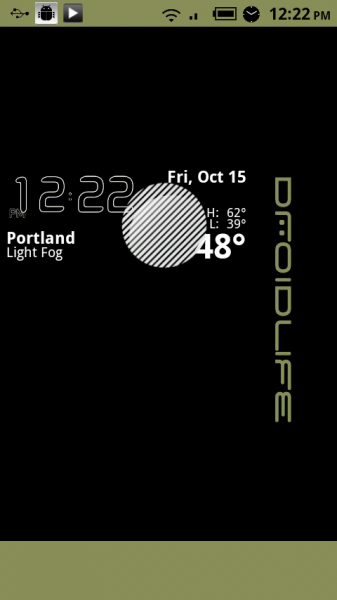 Following up with the OG Droid theme of the week comes Olive Burst for the Droid X, brought to you by the Icognito Team of JsinLegacy and Bgill55 who we seem to be featuring almost weekly.  (Time for some new themers to step their game up?)  These are the guys that created Invertnito which to this day, is one of our all time favs.  Olive Burst is similar in simplicity plus complexity and is pure soothing magic.
We are running this on top of rubiX Blurry V0.3 which I highly recommend.  
Download:  Olive_Burst.zip
Instructions:
*DROID X only.

*We ran this over top of Rubix V0.3 from ROM Manager.
1.  Download the file from above and drop it on your SD card.
2.  You have to be rooted.  (Instructions)
3.  You need to run Koush's Bootstrap Recovery.
4.  Your phone needs to be deodexed or running a deodexed ROM.  (Instructions)
5.  Open the DX Bootstrap and "boostrap" the recovery.
6.  When that finishes, "reboot recovery."
7.  Once your phone boots to Clockwork Recovery, scroll down to "backup and restore."
8.  Choose "backup" to make a clean backup of your phone.
9.  When that finishes choose "install zip from SD card."
10.  Then "choose zip from SD card" and find the Olive_Burst.zip file, select it and hit "yes."
11.   Your phone will apply the theme.  When it finishes, reboot and enjoy!
Other downloads:  Olive Dock |  Olive Droid Life Wallpaper
Full support thread and donate links here.  Donate people!