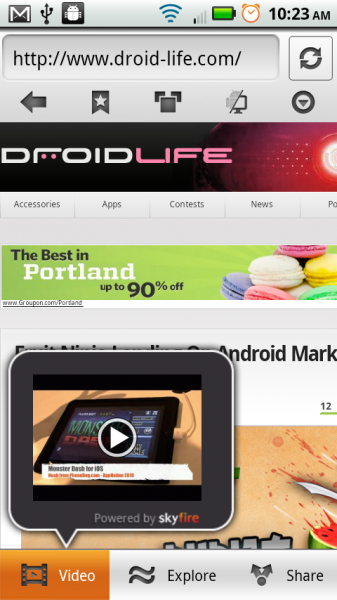 Skyfire announced today that they've hit 1 million downloads putting them in the top 0.02% of all products in the Android Market.  We're talking pretty elite company here.  You may remember Skyfire as our savior during those days when Android 2.2 release dates were still just rumors and we had almost zero opportunity to enjoy Flash video on websites.
They also announced today that their browser now works on the Droid X, Droid 2 and Incredible which were previously not supported.  Why would you use it over Flash in the stock Android browser?  Skyfire claims to save you up to 75% bandwidth over actual Flash.  Interesting enough.
Full press release after the jump.  
Skyfire Notches One Million Downloads of its Android Mobile Browser with New Compatibility for Samsung Galaxy, Motorola Droid X, Droid 2 and HTC EVO 4G Handsets

Browser built for the social media generation quickly becomes one of the most popular apps on the Android Platform

Mountain View, Calif. – September 14, 2010 –Android users want the best of the Internet, which means all their favorite websites and videos. This is why now over one million consumers have downloaded mobile browser Skyfire that optimizes Flash video content and brings it to Android devices worldwide. Today Skyfire announces that it has become one of the most popular Android apps, placing it in the top .02 percent of all products in the Android Marketplace.

Additionally the company announces expanded availability to newer Android devices. . Now the browser works on popular Android devices such as the Samsung Galaxy, Samsung Epic, Motorola Droid X and Droid 2, HTC Incredible and EVO 4G. Skyfire works alongside the latest Android 2.2 update to ensure Flash video is always just a click away, regardless of network connectivity. For those with devices that do not have the Android 2.2 update (2.1 and below), Skyfire opens the door to millions of previously inaccessible Flash videos.

Skyfire for Android took mobile browsing to a new level with the addition of the SkyBar™, a cloud-enabled toolbar that lets users enjoy millions of videos previously unavailable on mobile, discover the latest buzz on any topic they browse, and easily share content to their social networks. The company has since released several updates that make the browser faster, smarter and data optimized.

Skyfire's advanced cloud computing technology not only enables the features above, but also reduces mobile video data consumption by an average of 75 percent. According to a recent Cisco study, mobile video streaming is expected to increase by over 6000 percent by 2012. As consumers gain an optimized video streaming experience on mobile with Skyfire, mobile carriers are presented an opportunity to offload the impending mobile video data burden causing dropped calls and poor reception and clogged bandwith in major metropolitan areas.

Skyfire (2.3.2) for Android is available for download worldwide for free at get.skyfire.com.
Grab it now if you haven't checked out the latest version.