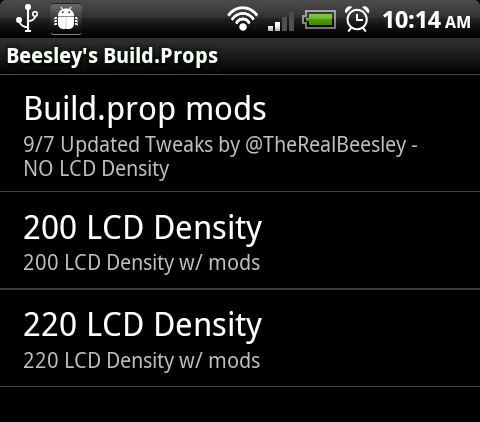 If you were one of the Droid X owners who updated to the leaked Android 2.2, you may have noticed a significant number of apps missing from the market, including the new ESPN fantasy football app.   Don't worry though, there is a fix and one that has been out for a while, but just recently hit ROM Manager allowing for the easiest of installations.  What needed to be fixed was your build.prop file and fortunately, Beesley (from our forums) has put together a bunch of edits which not only fix your market, but also speed up your call ring time, save battery, allow for faster list scrolling, and can even change your display density.  Sounds like a lot, I know. It's all well worth it.
Instructions:
1.  Root your Droid X running 2.2.
2.  Download and install ROM Manager.  (Premium version needed)
3.  Open it, choose Download ROM, Beesley's Build.Props, Build.prop mods.
4.  The file is small and should take just a few seconds to download.
5.  When it finishes,  check the box to make a backup.  Leave "wipe data and cache" unchecked.
6.  Your phone will boot into recovery, flash the new build.prop and reboot.
7.  Enjoy finding all of your apps, longer battery life and more!
You'll find more gems like these in our new Droid Life forums.  Sign up now!