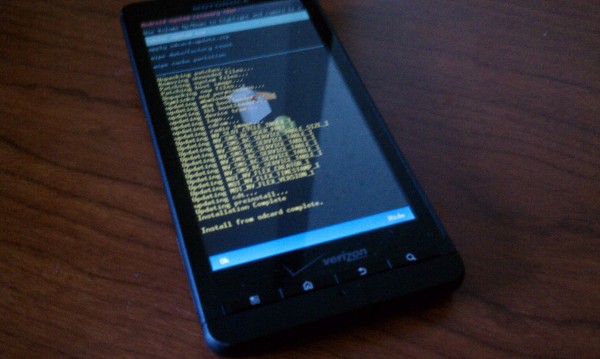 A leaked version of Android 2.2 for the Droid X has popped up this morning and is available for all users to try.  It's a simple "update.zip method" and can be done in just a couple of minutes.  This is our first taste of the Froyo for the DX and we're hoping it fixes the dozens of bugs that have frustrated so many of us.
I will say right up front that this is more than likely not the final version and if you update to this version, getting back to stock 2.1 is not going to be easy.
________________________________________
Download:  MOTOROLA IS REMOVING DOWNLOAD LINKS FOR THIS 2.2 UPDATE LIKE CRAZY. AT THIS TIME I'M GOING TO HOLD OFF FROMM UPLOADING THE FILE.  SORRY ALL.
*Warning* – Just a reminder that rooting VOIDS your warranty and could potentially do permanent damage to your device.  This is not a recommended practice and you do so at your own risk.
Instructions…
*Note 1* – This should work for rooted users as well.  Just make sure you haven't themed or removed any bloatware or it will not work.

*Note 2* – If you get an installation aborted error mentioning the "logwrapper" we are looking into the issue and will update you as soon as we know a fix.

Update 1:  LOGWRAPPER FIX INSTRUCTIONS HERE.

*Note 3* – To keep root you must move your "su" file to your xbin folder and out of your bin folder.  You can check by going into /system/bin.
1.  Download the update.zip from above and place it on the root of your SD card.  (Not in a folder)
2.  Turn your phone off.
3.  Boot into recovery but holding the Home key and Power at the same time.
4.  When a triangle with exclamation mark appears, release buttons and press the Search key once.
5.  Using the  volume up/down switch, scroll down to "apply sdcard:update.zip."
6.  Once highlighted, press the camera button to apply the update.zip.
7.  Your phone will work some magic and if finished correctly will say "Successful."
8.  Scroll back up to "Reboot system."
9.  You phone should now reboot running Android 2.2.
Enjoy the Froyo!
Again, this is a leaked version, so we have no idea if it is final or not.  If you update to this, it is not an easy process to get it back to stock 2.1 and requires RSD Lite and an SBF file which I know you all love so much.  Do so at your own risk!
Source:  MyDroidWorld