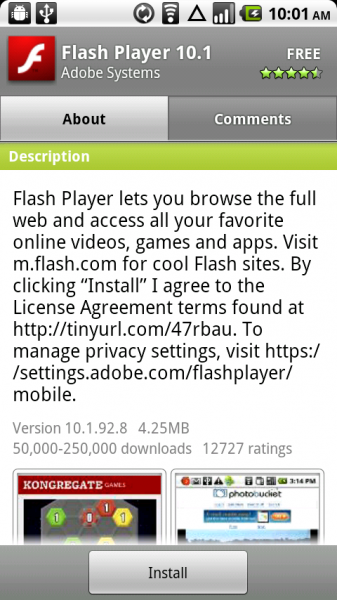 If the leaked beta versions of Flash 10.1 for your Droid aren't cutting it these days, especially with the official version launching on the market for the Nexus One last week, then we have a solution for you.  Root your Droid and install the latest CyanogenMod 6.0.0 RC3 build through ROM Manager and it should appear for you in the market as you can see from the screenies above.
According to Verizon, we should have seen Flash released for the D1 on the 18th, but that date has now come and gone with no word.  We had sort of hoped to see Flash with FRG22 Froyo, yet that build seems to have disappeared as rumors of a new 2.2 for the D1 have emerged.  It's a huge guessing game at this point.
Like I said, grab it now using the new CM6.
*Note* – If you are on a 2.2 ROM and can't see Flash in the market, try going into Settings>Applications>Market and clearing data/cache and then force stopping it.  It may appear afterwards.
Any luck?  This build seems to run much better than those leaked builds which were not meant for the D1 anyway.
Cheers Shane!