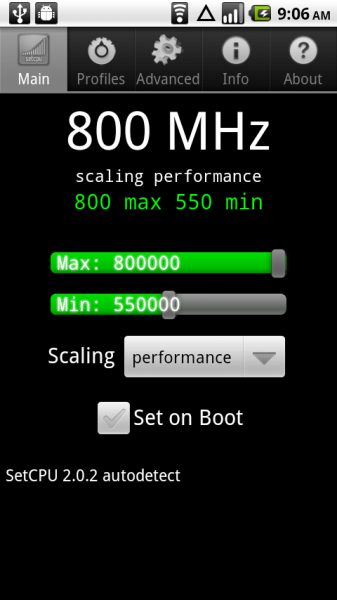 Ever since the original Droid was rooted back in the 2.0.1 days, we've had super user access which allows us to do whatever we want to the device.  And one of those things that many of us wished to do from the beginning was overclock it from the 550MHz that Moto stuck us with in hopes of gaining some much needed boosts in performance.  In both Android 2.0.1 and 2.1, simply rooting your device was not enough, you also needed to flash a custom kernel which would allow for overclocking and was a step that many of you were uncomfortable with or even struggled to grasp an understanding of.  Well guess what?  Android 2.2 is sooooo much different thanks to SetCPU.
All you need to do now is root that Droid 1 of yours using Universal Androot, download SetCPU from the Market and overclock to a number of speeds.  No more custom kernels people.  While you won't see those 1.0GHz monster numbers since the stock kernel can't crank that high, you will still find 600, 700 and 800MHz speeds which should do you just fine.
So for those of you wanting more power from your original Droid, but aren't willing to dig deep into the ROM and kernel world, this is your safest bet.
Cheers Glenn!