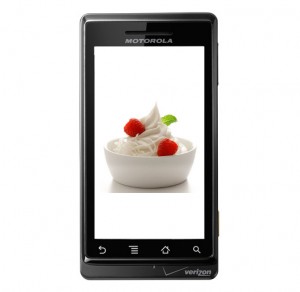 The file has been released!  No more staring at and refreshing your "About" screen to see if an update is available!  Android 2.2 for the Motorola Droid is finally and officially here.
Screenshots from my device:
Instructions to manually install Android 2.2 on your Motorola Droid:
*THIS IS ONLY FOR NON-ROOTED STOCK 2.1 USERS.
1.  Download this file:   update.zip or DIRECT FROM GOOGLE LINK
2.  Place file on the root of your sdcard (not in any folder).
Make sure it is named UPDATE.ZIP! The Google link will need to be renamed.
3.  Turn your phone off.
4.  Boot into recovery (Hold Power + X).
5.  Wait for a triangle with exclamation point to appear and release Power and X.
6.  Hit the volume up and camera button (half-way down) at the same time.
7.  Using the D-Pad select "apply update.zip" and press in the gold button on the D-Pad.
8.  Your phone will now run the update.
9.  When it finishes, use th D-Pad to select reboot phone.
10.  Your phone will reboot with Android 2.2.
Update 1:  If you would like FLASH installed, download it here.

Update 2:  Download Chrome to Phone here.
Enjoy everyone!  And let us know if you run into any issues during the installation process.  We've got a ton of great community members to help out.
Big cheers to LarryR for figuring out the URL.  We tried but realized we are bloggers, not code crackers.