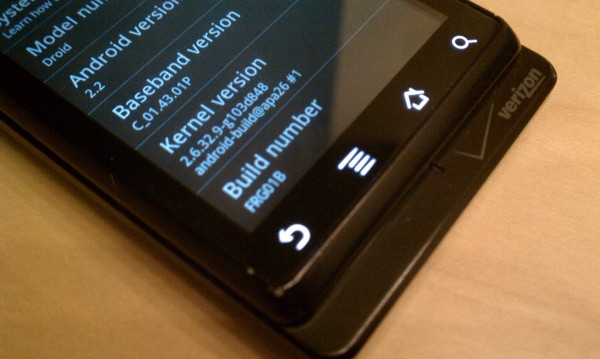 For those of you that stayed rooted while the Froyo OTA update was discovered, you can now have it with full root access.  Yep,  Pete (Mr. Bugless Beast) has already put together the FRG01B build, slipped in superuser and has it ready to rock on your Droid.  What's even better, is the guy is in the middle of a camping trip and managed to hack while roasting some mallows.  Dedication.
Download:  FRG01BODEXEDOTA.zip (alt link)
*THIS IS FOR ROOTED USERS ONLY.
Instructions…
1.  Download the file to your SD card.
2.  Open ROM Manager, choose "Install ROM from SD Card."
3.  Scroll down to find FRG01BODEXEDOTA.zip and tap on it.
4.  When prompted, check the box to create a backup if you don't have a recent one.
5.  Skip the "wipe data and cache" box if coming from another Froyo build.
6.  Phone will reboot, work magic and BAM!  Enjoy the new Froyo!
Let us know if you run into any issues!
And again, amazing work Pete.
Source:  Peter Alfonso