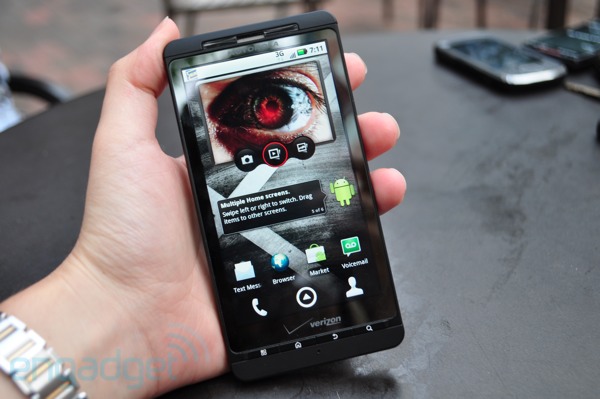 Engadget appears to be the first tech site to get a hold of the new Droid X by Motorola long enough to do a quick writeup.  They put this beast to test by showing off it's 720p video capabilities, new Motoblur, its size in comparison to competitors, a new keyboard, and so much more.
This comes only hours after we broke the release date news and the official announcement which is coming next week.
Some of the highlights…
Hardware:  Looks slightly bigger than the EVO and has far more exterior details.
Screen:  Might actually be 4.4″ and is incredibly crisp.
Motoblur:  Running Android 2.1 and not what anyone expected but seems to be solid.
Camera:  8MP is nice, but the actual camera button made pics unclear at times.
Keyboard:  Official Swype comes preinstalled and includes multi-touch.
Performance:  The speed is remarkable.
Like I said, they put together a pretty good review for only having the device for a short period of time.  They also have videos and an entire gallery that you must see.
Check out the rest of their writeup here.