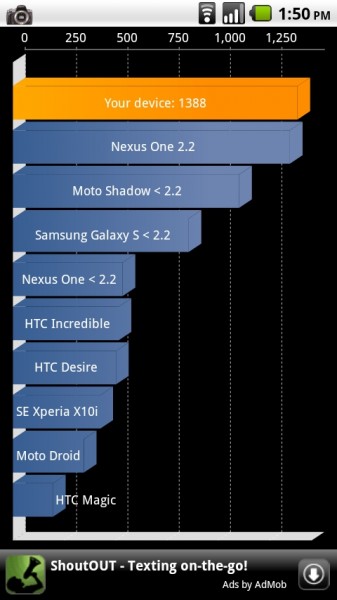 Time to show off a little bit!  After flashing the Android 2.2 ROM onto your Droid and then tossing in one of the new kernels which fixes wifi, let's see how high we can get these benchmark numbers.  I'm only using the 1.0Ghz kernel, but it's cranked to the max for this app.
(Don't have Quadrant?  Find it in the market for free here.)
So…how bad is your Droid now?
-Post your kernel
-What you are clocked at
-And the screenie URL
_______________________________________________________
Other Motorola Droid Froyo Goodies:
Download and Install Froyo | Download Flash 10.1 for Froyo | Video: Froyo Walk-through/Overview
Froyo Overclock Kernels | New Froyo Baseband | More Froyo Tips
Tip: Move Apps to your SD Card | Tip: Watch Hulu on your Droid | Tip: Use Chrome to Phone