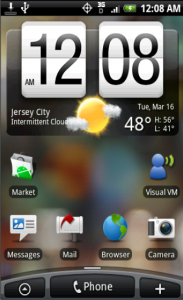 Sick of waiting around for the Droid Eris and its Android 2.1 update?  Then manually install it!  While I have not actually performed the process below, it has been outlined and proven to work on various sites throughout the Android world.
It should be noted that this will wipe your phone and then install the 2.1 OS.  What exactly does that mean?
That you will have to re-download all of your apps from the market.
Don't worry about the paid ones!  They are attached to your Google account.
Your contacts are also attached and will re-sync.
Your music and photos are all on your SD card and will not be lost.
Update: Users are reporting that this is NOT wiping their apps.  HTC was wrong.  Yay!
Instructions for installation…
1.  Download this file:   Droid Eris 2.1 (alt link)
2.  Rename the file to "update.zip" or just "update" if your PC does not show file extensions.
3.  Drop the file onto the root of your SD card.
4.  Power off your Eris.
5.  Hold the "volume down" button and then power on.
6.  Scroll down to "recovery" and press the power button.
7.  When you see the triangle and exclamation mark, press "power" and "home" at the same time.
8.  Select "apply sdcard:  update.zip" and your phone will load the update.
9.  Once it says "Install from sdcard complete" you are finished.
10.  Official 2.1 for the Eris in the house.
Let us know if you have success or run into any issues!
*Side note* – Anyone have a spare Eris that they want to part with?  I'm looking to add to the Droid family.
Cheers to everyone who sent this in!