The Pixel 8 Pro has been official for a full month now and we can't put it down. I tried to, briefly, because that's typically what I do after reviewing a phone, but I came running back. This phone is so good and there are several settings or features I'd point you to to make sure you are enjoying it as much as I am.
I've put together a list of 8 settings that aren't always so obvious that you may want to consider turning on. Things like Extra Dim, auto-rotate face detection, and all of the special call settings aren't typically on out of the box. Here's where to find them all.
Auto-rotate face detection: Ever been laying in bed or on the couch as you stare at your phone and it rotates to landscape because you are, well, laying in landscape? Google built-in a face detection that pairs with auto-rotate to try and counteract this problem. With this setting enabled, your phone should lock to your face orientation to decide if it should flip to landscape or not. In other words, even if its little internal gyroscope notices you have flipped the phone almost sideways, as it lines up with your face, it understands it should remain in portrait. It's amazing.
You can find this setting by heading into Settings>Display>Auto-rotate screen. If you tap into that "Auto-rotate screen" option, the next page has a "Face Detection" toggle. By turning that on, your phone will then try not to rotate as you do.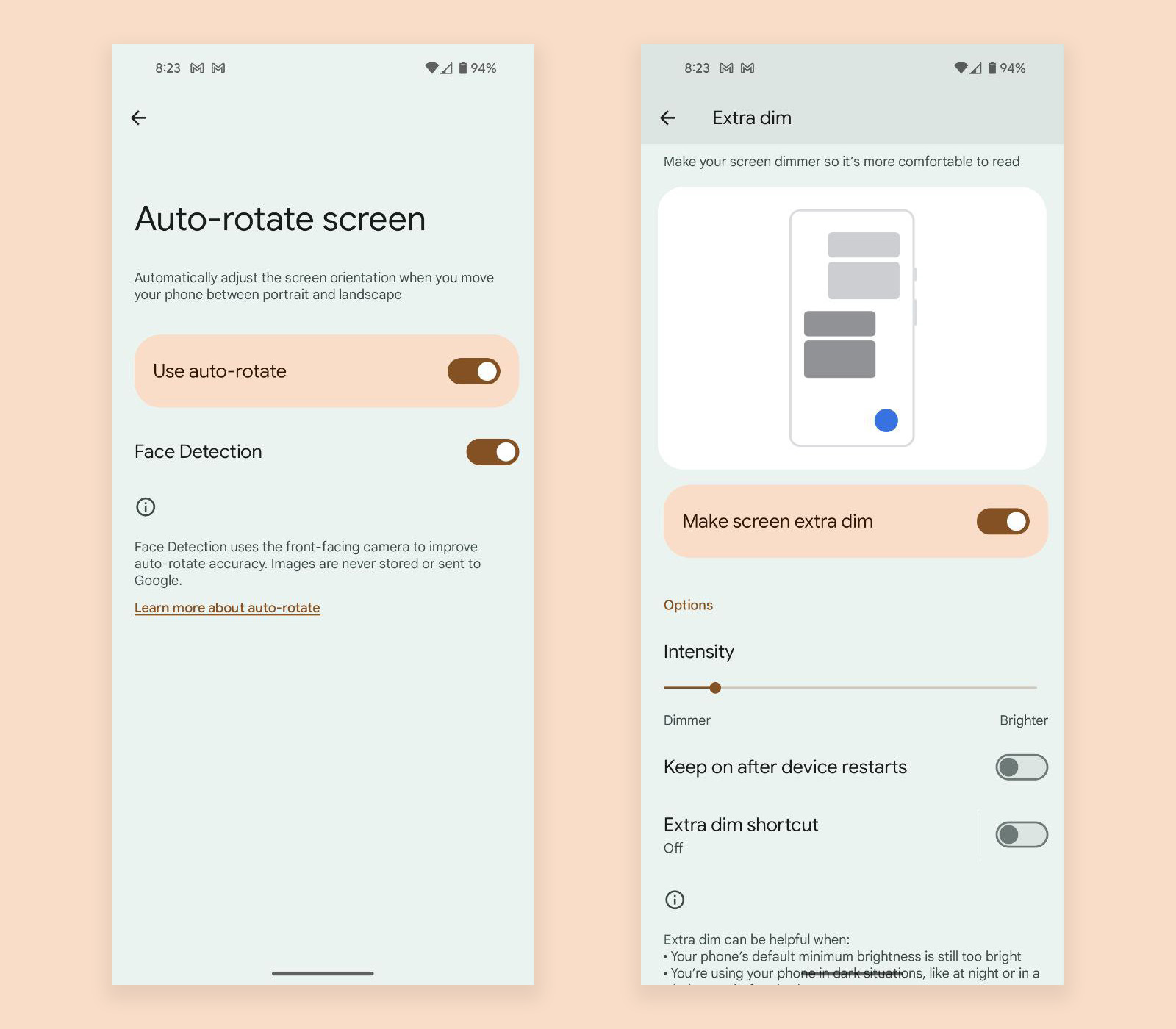 Extra Dim: This is a setting that lets you take your display down an extra couple of brightness notches, even if you've already slid the brightness bar to the far left. The idea here is that the minimum brightness is still too bright, so Google added this "Extra Dim" setting to let you go darker.
To find it, you'll head into Settings>Accessibility>Extra Dim. Once enabled, there is an intensity slider to let you get crazy with the dimness, a toggle that lets you keep the setting enabled even after a restart, and another that adds a side-mounted shortcut to the screen at all times. Once enabled, you'll also find a Quick Settings tile for it in your notification area that is super handy.
Lock screen shortcuts: Google was at one time one of the leaders in lock screen customization, but backed away for a more minimal approach for years. Now, they've seemingly found new motivation to make lock screens more robust after seeing their success on iOS and on Samsung phones. One of the ways they have made the lock screen more useful on a Pixel phone is through the shortcuts you see in the bottom left and right corners.
These lock screen shortcuts used to show a Home and Wallet shortcut out of the box, but Google will let you customize these to things you might actually use more often. For me, I've changed the shortcuts to a flashlight and QR code scanner, but there are several other options you can choose.
To change these shortcuts, you'll head into Settings>Display>Lock screen>Shortcuts. Once there, you'll find a simple UI that lets you change the left or right shortcut. The list of options isn't huge, but there are shortcuts for none, camera, do not disturb, flashlight, home, mute, QR code scanner, video camera, and wallet.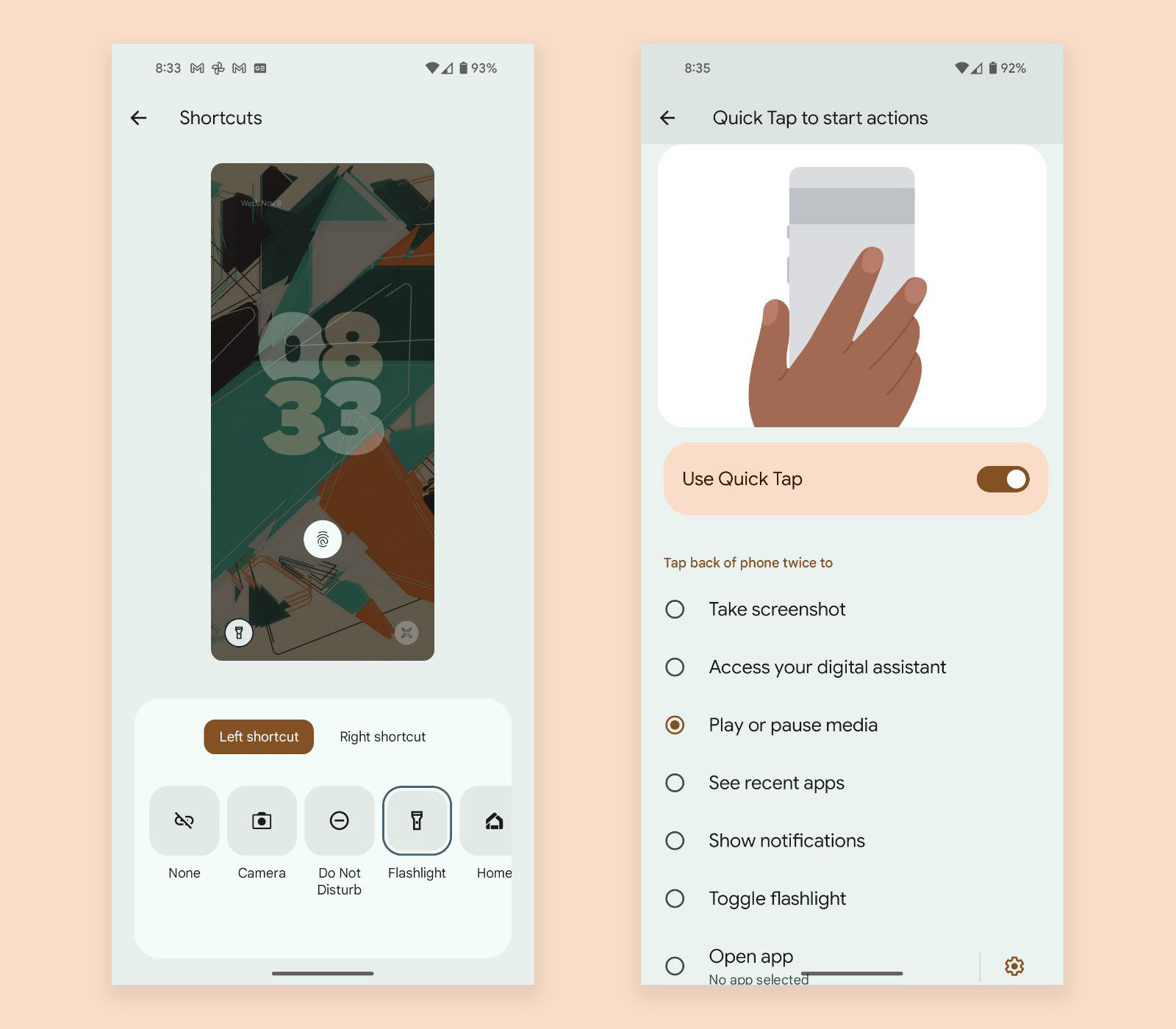 Quick tap gesture: Did you know that you can launch actions by double tapping the back of your Pixel phone? Google added this option some time ago, but it's so buried in settings that I doubt most know where to find it.
If you head into Settings>System>Gestures>Quick Tap to start actions, you'll see a screen that shows you that double-tapping on the back of your phone can do all sorts of things. You could double tap to take a screenshot, access Google Assistant, play or pause media, see recent apps, show notifications, toggle the flashlight, or open any app. You can even tell your phone to require stronger taps if you find that gentle taps keep taking screenshots too often or turning on the flashlight.
Swipe up to start search: I hate to bring up the iPhone for comparison, but if you've ever used one, you might know that swiping down to open up a search is about the most powerful thing the phone can do. For me, it's the central hub for accessing apps, settings, and almost anything else on an iPhone. On a Pixel phone, Google has almost copied this idea by making search within the app drawer extremely powerful. But to take it to an iPhone level, there is one setting you need to enable.
If you open up the app drawer on your Pixel phone, at the top right there is a 3-dot menu you should tap to get into "Preferences." On the Preferences page, the top option should be to "Swipe up to start search," which you need to enable. By doing so, this automatically opens up the keyboard as you swipe into the app drawer to let you start typing quickly or searching.
The search within the app drawer searches through apps, all of your phones settings, contacts, the internet, and more, so by allowing the keyboard to open with a swipe up, it makes your searches happen that much faster. You can just swipe up and then start typing in an instant. It is probably my favorite Pixel setting, assuming you get used to just searching for things all of the time rather than tapping around in menus. Trust me, start doing this and you'll never look back.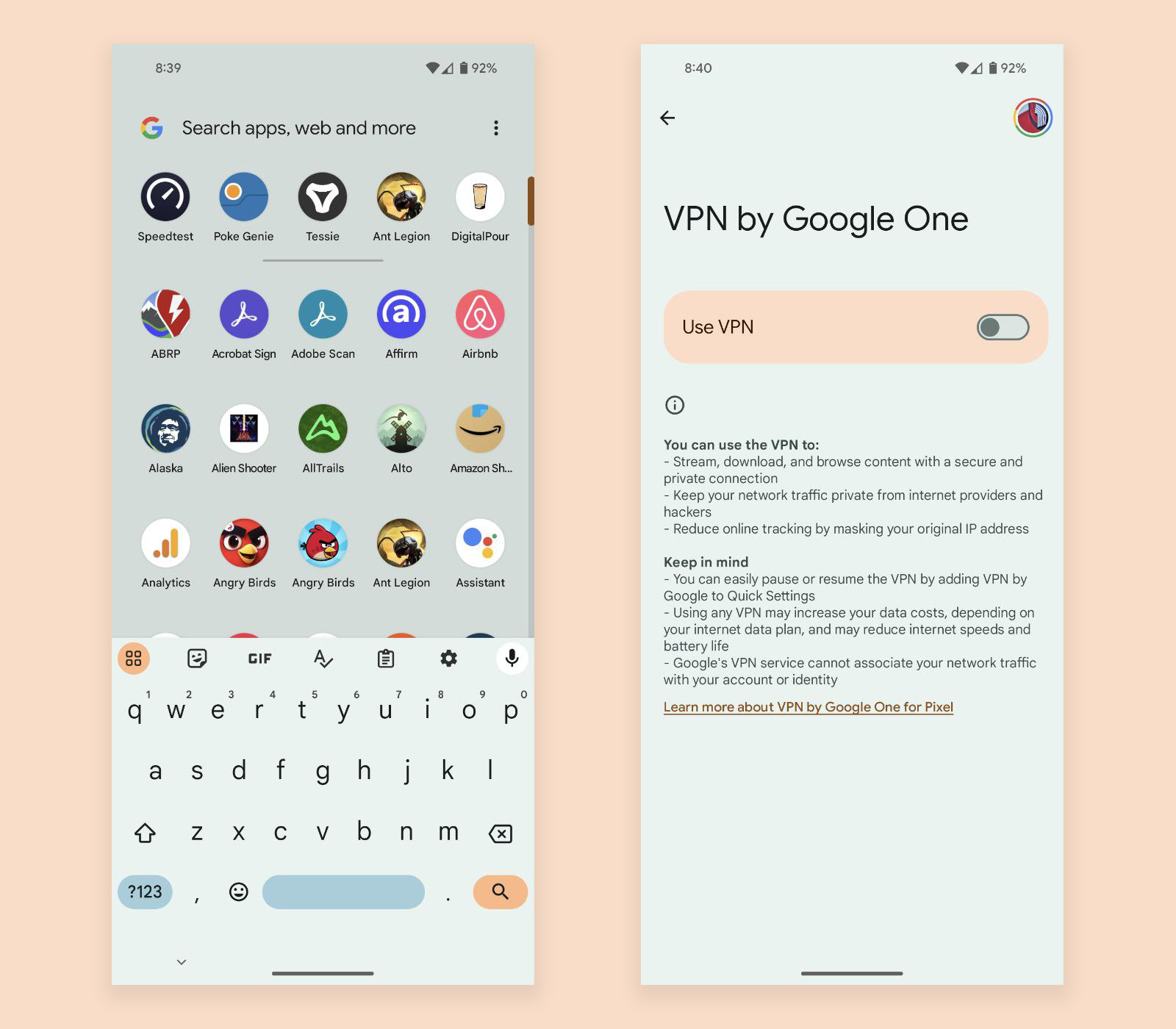 VPN built-in: Your Pixel 8 and Pixel 8 Pro comes with a built-in VPN service through Google One for free. Yes, your Pixel 8 has access to a free VPN service that you don't need to pay for. Why should you care? Because as the screenshot above suggests, you may want to protect your internet sessions from time to time or reduce what is being tracked as you use apps or visit websites or download items.
To access your built-in VPN, you can perform a search of "VPN" using the setting you enabled above or head into Settings>Network & internet>VPN. Once in there, an option for "VPN by Google One" should be listed as being built-in. You can tap on it to go to an additional page that provides more info about Google's VPN service, along with a toggle to turn it on. Once on, you'll see two extra options that let you pause when on selected networks or to exclude selected apps.
Clear Calling: This feature first showed up last year on the Pixel 7 and is included once again with the Pixel 8 line. If you make calls often, you should enable this, as it is likely off by default. You'll find it easily by searching or through Settings>Sounds & vibration>Clear Calling.
Once enabled, Clear Calling attempts to reduce loud or obnoxious noises surrounding the person you are talking to. So if you are on a call and the person you are having a conversation with is on a busy street, has an annoying child banging something in the background, or is building a house with power tools everywhere, Clear Calling should try to reduce all of that and let their voice shine. It's magical AI stuff, I think.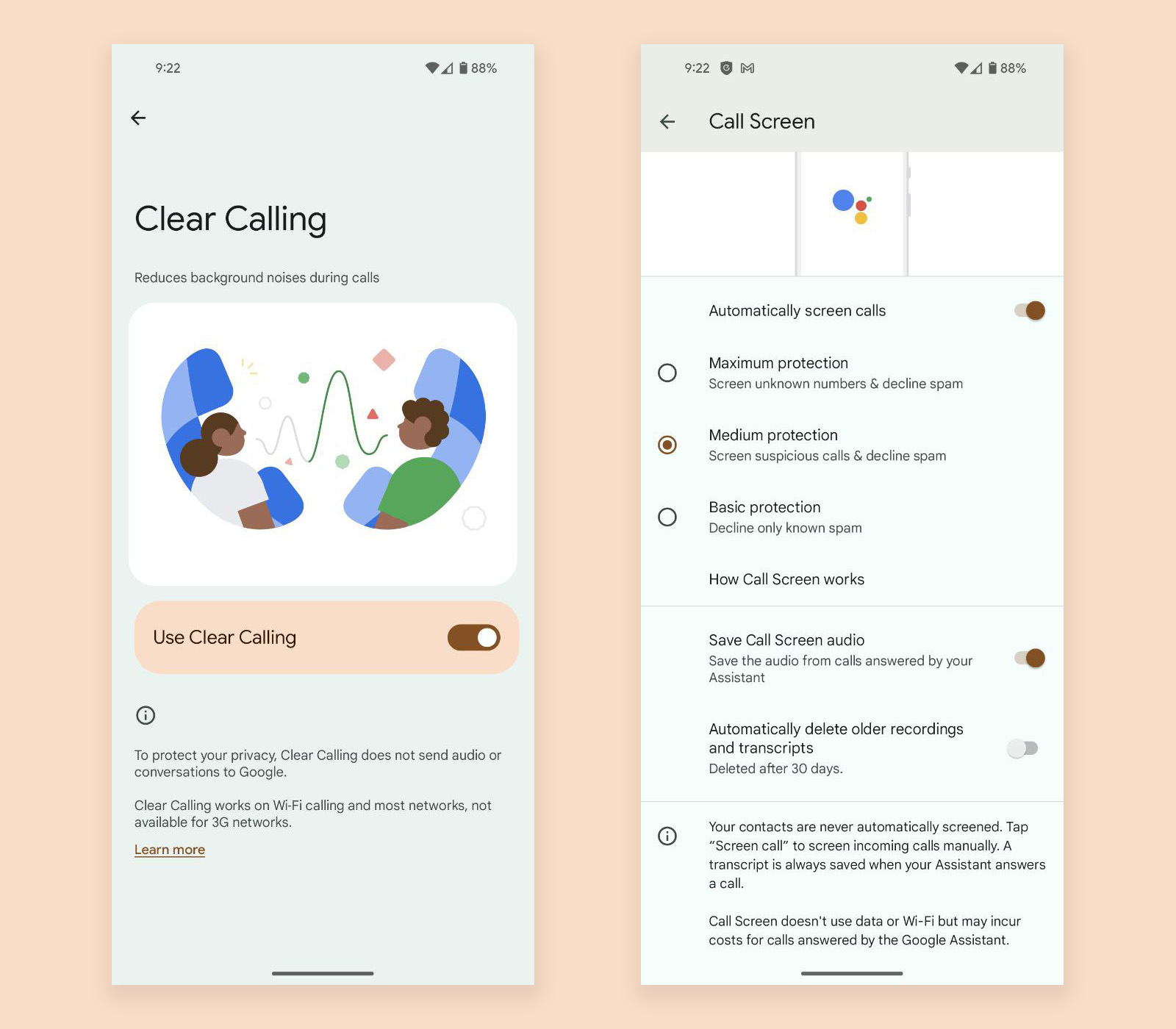 All of the call settings: Google includes a bunch of calling features outside of Clear Calling that also might be off out of the box and that you should enable. I'm talking about Caller ID & spam info when calls come in, Hold For Me, Direct My Call, and Call Screen. All of these features can be incredibly useful depending on the situation.
Caller ID & Spam simply tries to identify spam or business calls and tell you on the call screen about it. You have likely encountered a similar service through Verizon or your carrier, so this should be familiar. This is just Google's version.
Hold For Me is one of Google's Assistant-powered calling features that will attempt to sit on hold for you if you call into somewhere that has a long hold time. Once someone enters the call, it'll let you know to then join the call.
Direct My Call can both transcribe phone menus for you and also select menu options on phone calls.
Call Screen might be the coolest of them all as it allows you to screen calls using the Google Assistant. It can straight decline known spam or suspicious calls or even those from unknown numbers. It can also let you send a caller to Google Assistant to talk to so that you can get more info about the caller and decide if you want to take it or not. It's amazing.
You'll find all of these settings by opening the Phone app, tapping the top right menu, and then Settings. All of these options should appear at the top of the list of Settings for you to dive into and enable if you think they sound useful enough.
Did we miss anything? What other settings would you recommend Pixel owners turn on right away?