It's Pixel 8 Pro review day and like most years, we are not ready to publish ours. Look, we just like to take our time with these things and report back once we feel like we have seen all that we need to see. We aren't there yet with both the Pixel 8 or Pixel 8 Pro.
With that in mind, we are also well aware that some of you want to hear from us before pulling the trigger on Google's new phones. You want to know our thoughts on the display, battery life, performance, the camera, and all other important aspects of these new, more expensive Pixel devices.
We've got you – here's a quick list of Pixel 8 Pro items, all of which you should know about before buying.
1. Display is big, bright and pretty: Google still hasn't done a great job of explaining why they named their new displays Actua and Super Actua. It's probably because that's what companies feel they need to do to standout, but what I can tell you is that the Pixel 8 Pro display is wonderful to look at and use.
Not only does the 6.7″ AMOLED display get absurdly bright (2,400 nits) when outdoors, it holds great colors at all angles, is super responsive to the touch, and can get extra dim on the other end when in dark situations. This is a well-rounded, top tier display from Google that is up there with Samsung's best. It's also flat. It's flat!
2. Battery life is quite good: Google put a 5,050mAh battery in the Pixel 8 Pro, so we aren't talking a massive increase in capacity compared to the Pixel 7 Pro. It also doesn't really have faster charging or better charging when wired or wireless. The good news is that battery life has been very good during my past week with it.
My usage has ramped up some with the testing of this phone, which has led to 4+ hours of screen on time in a day. For the first couple of days, I was taking screenshots at the end of the night to keep track for my review, but things have been going so well that I basically stopped. At the end of the night, I'm averaging right around 30% battery remaining, and again, that's with heavier usage than I'm used to. Today, as another example, I'm at 1.5 hours screen on time with 75% remaining. I'm pretty sure I could hit 6+ hours of screen on time with this phone and still make it to bed.
3. It's snappy with the performance: The Tensor G3 chip inside of the Pixel 8 Pro may not win any benchmark battles, but Google has clearly tuned the hell out of it to get excellent performance when combined with their Pixel software experience. The phone is snappy, snappy, snappy.
I've played with the AI wallpaper thing for far too long, too much Pokemon GO, and also consumed plenty of YouTube, all things that could heat up the device and slow it down. The only times I've noticed the phone getting warm are when I was an hour into making AI wallpapers, but the phone didn't get hot like older Pixel phones and somehow still maintained performance.
I need to do more testing on this front, like when in hotter environments and really pushing it to see, but so far I'm seeing good results.
4. This design is the best yet: The design of the Pixel 8 Pro is certainly familiar, but it is also the best from Google to date. The rounded corners are a pleasure in the palm, the flat display is so much better to use with Android as an operating system and when physically in one-handed mode, and the camera bar putting all of the cameras into a single window looks so much cleaner. The weight isn't excessive like some large phones, the overall balance feels right, and while somewhat slippery, I've been able to manage this large phone without being annoyed (so far).
5. Matte glass is beautiful: I probably could have talked about this above, but the matte glass here is so great. I've been testing the Porcelain model and there isn't a fingerprint to be found after a full week of usage. I ordered the blue (Bay) for personal usage, but the matte black (Obsidian) was also quite tempting just because it looked so good in person. There isn't a color you could go wrong with on the Pixel 8 Pro and it's all because of this matte glass.
6. Let me keep testing the camera: I know you wanted to come here and have me tell you that this is the best camera in history. I'm only going to disappoint for now, because I have not had a chance to fully dive into the camera. I've taken some pictures, most of which are excellent, but I need more time. What I can tell you for now is that camera is semi-fast to load (kind of wish it were faster) and that I absolutely love the new camera app that separates video and photo modes. Your boy almost never films video and hiding those modes away is my favorite new thing.
I'm putting together a Pixel 8 Pro camera samples gallery (here) that I'll continue to post to as I move towards review.
7. AI wallpaper is too much fun: Yeah, the AI Wallpaper that Google has put some digital brains behind to make you wallpapers on the fly is so great. The other day I looked at my battery usage and it said I had 2 hours and 44 minutes in the AI Wallpaper app…yeah, I hope that just means it was working in the background and I wasn't actively using it for that long. I might have been, though.
This wallpaper maker starts with a theme like Imaginary, Painting (my fav), Texture, Bloom, Soft-focus, and Terrain, and then lets you choose from additional options within before generating. Once that process ends, you are often left with between 2 and 7 wallpapers to choose from, all of which should be originals. It's so much fine.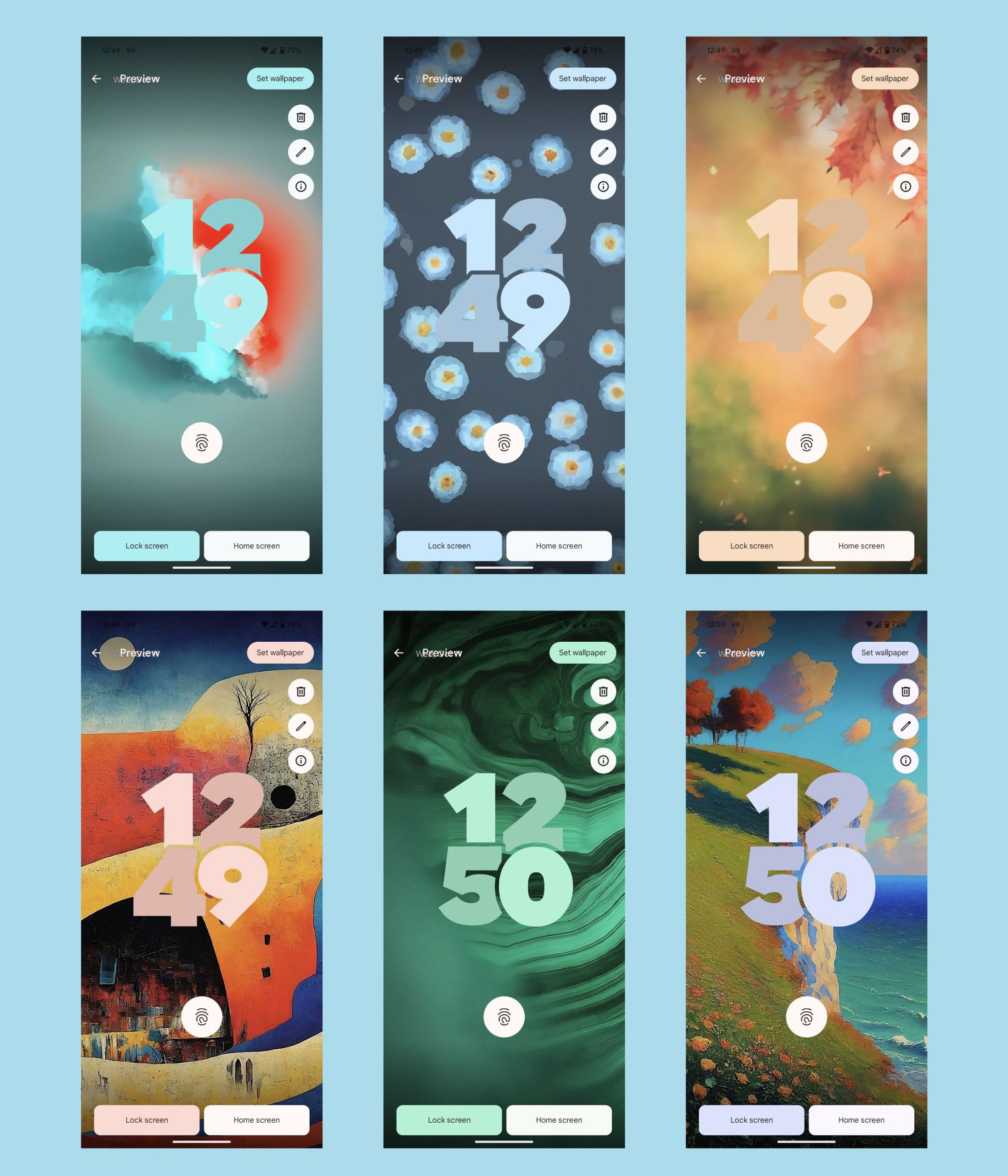 8. I have no major complaints, yet: At this time, I don't have any major complaints about the Pixel 8 Pro to share with you. Some items worth mentioning are the slipperiness of this backside, the fingerprint mess you'll find on the polished aluminum sides, a cellular connection that doesn't always seem that stable as I move from tower to tower, and the fingerprint reader. Yes, the fingerprint reader is bad like it was on the Pixel 6 and Pixel 7.
So that's my brief update before the full review drops – let me know what else you need to know.
Pixel 8 Pro Shop links: Best Buy | Google Store