The wait on the release of Android 14 is over! Google dropped the latest version of Android on us alongside the launch of the Pixel 8 and Pixel 8 Pro, so even if you don't plan to pick-up their new phones, you can at least play with brand new software. Well, assuming you haven't been running any of the betas, because if you have, then you know what's coming.
Haven't been running Android 14 at all and want to know what's new? Let's talk about it.
Top Android 14 features: The line-up of features being introduced in Android 14 covers everything from customization to improved HDR, built-in Health Connect and more security around data sharing with apps, a new 6-digit PIN option, and features for low-vision and hard of hearing users. This might not be as big of an update as we have seen in past releases, but it's still packed with new stuff.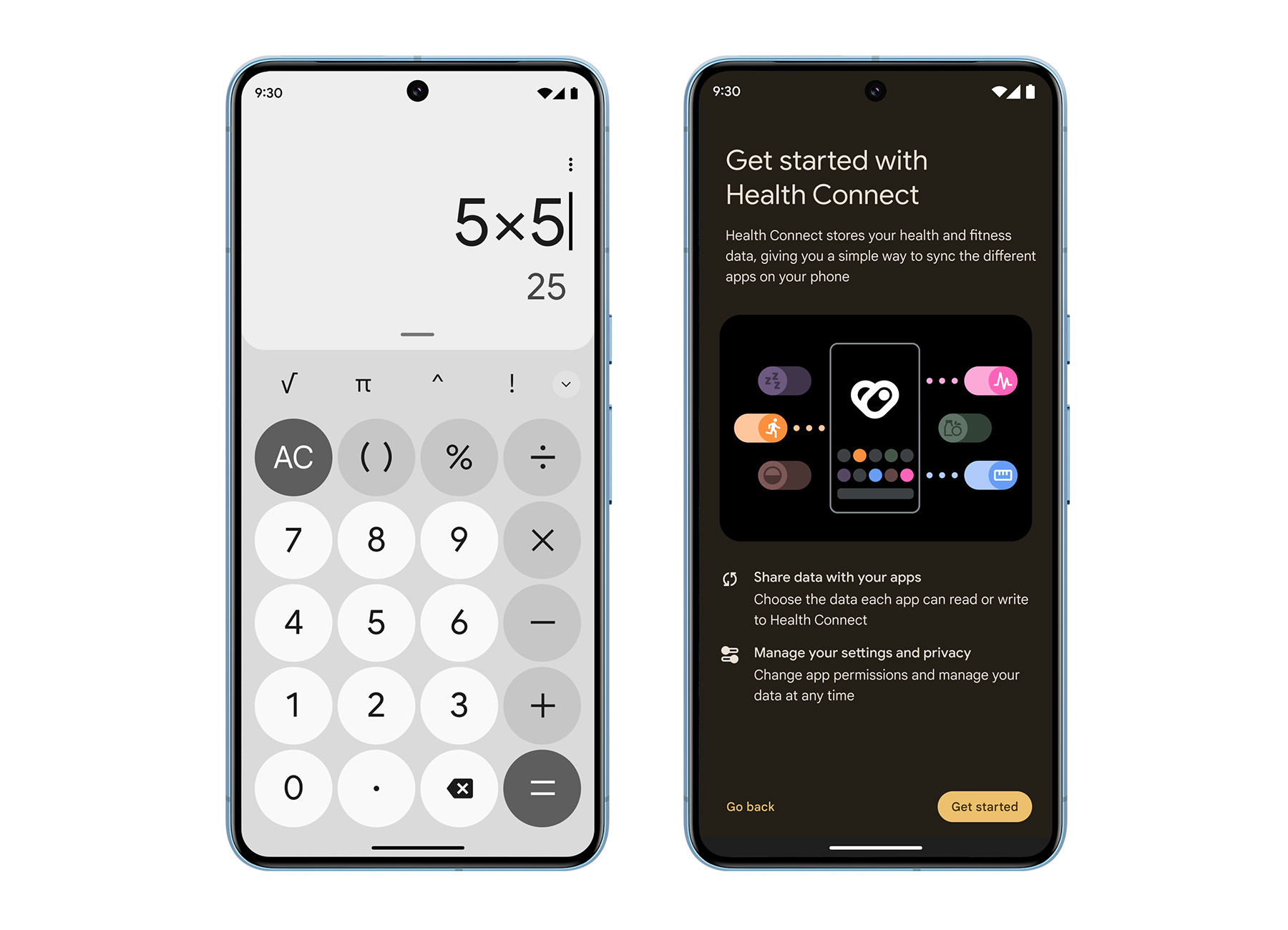 New monochromatic theme: Weren't a fan of the ultra-colorful dynamic theming from Android 12? Google is introducing a new monochromatic theme in Android 14 that takes the color out of everything. From the system theme to supported apps, you'll get minimal colors that look "sleek and beautiful."
New lock screen customization: The lock screen is back to being an important focus in Android 14, with new lock screen shortcut choices (like flashlight or QR scanner), new layouts and new clocks, and some smart elements that adjust depending on current scenarios. For example, the weather could become more prominent if weather is about to take a turn for the worse.
New style picker: The new customization style picker is also upgraded with better visuals as you adjust wallpapers or colors.
Generative AI wallpapers: Starting with the Pixel 8 and Pixel 8 Pro, Google is adding original wallpaper artwork through "AI-generated text-to-image diffusion models" that "help you create wallpapers that match your vision." No word yet one when other Pixel devices will see this.
Ultra HDR: Need more HDR? Android 14 supports Ultra HDR to help further bring out those vibrant colors, brighter highlights, and the darkest of shadows.
Health Connect built-in: Google has added Health Connect to the system in Android 14, so your health app and service connections are on-device, secure and encrypted.
Data sharing updates: In Android 14, if an app has been given permission to something like your location, you'll get notified when it starts sharing your location with any third parties. You can then decide if you'd rather it not do that and remove the permission.
Partial media access: When an app requests access to your media, like a photo gallery, Android 14 only gives the app access to select photos or videos, not your entire gallery.
New 6-digit PIN: 4-digit PINs are old school, guys. In Android 14, you'll be encouraged to upgrade to a 6-digit PIN that when completely entered, will quickly bypass the lock screen.
App install blocking: Some apps with malware may try to target older API levels to get around security measures, so Android 14 will block those that aren't targeting at least version 23.
Lossless USB audio: Audiophiles can take advantage of lossless audio formats when wired over USB.
Low-vision users: Users with low-vision can expect improved magnification, nonlinear font size scaling, and a new font size Quick Setting tile.
Hearing accessibility: Google is also making hearing aids improvements and adding Flashing notifications for those with hearing needs.
That's not everything in Android 14. Google says to expect automatic framing in video calls, general performance improvements, one-tap access to Google Home controls, and more. You can find out additional details on Android 14 at Google's new dedicated site here.
Google also fixed 75+ bugs and improved UI elements and other items. We have a full list here.
Android 14 release date: Today is the day for Android 14 if you own a still-supported Pixel device (and aren't enrolled in the beta program). Google says that Android 14 will begin rolling out right away to the Pixel 4a 5G, Pixel 5, Pixel 5a, Pixel 6 and Pixel 6 Pro, Pixel 6a, Pixel 7 and Pixel 7 Pro, Pixel 7a, Pixel Fold, and Pixel Tablet. The original Pixel 4a did not make the cut, which we knew because it hasn't been a part of the Android 14 Beta program.
Were you a part of the Android 14 Beta and remain enrolled? You should already be running Android 14 QPR1 Beta 1, so you won't get this stable update. Sorry, friend, but you essentially have a newer version of Android anyway.
The update to Android 14 stable will arrive over-the-air (OTA) over the coming days to your phone If you'd like to get it as soon as possible, you can always sideload the OTA or factory image files. For instructions on how to flash a factory image, here you go. For instructions on how to flash an OTA .zip file, here you go.
Android 14 downloads: Factory Images | OTA Files
Below are the build numbers for each phone and certain carriers. For the most part, you'll want the global build unless you live in Japan or are on AT&T.
Global
Pixel 4a (5G):    UP1A.231005.007
Pixel 5:                UP1A.231005.007
Pixel 5a (5G):    UP1A.231005.007
Pixel 6:                UP1A.231005.007
Pixel 6 Pro:         UP1A.231005.007
Pixel 6a:              UP1A.231005.007
Pixel 7:                UP1A.231005.007
Pixel 7 Pro:        UP1A.231005.007
Pixel 7a:             UP1A.231005.007
Pixel Tablet:      UP1A.231005.007
Pixel Fold:          UP1A.231005.007
Japan
Pixel 7: UP1A.231005.007.A1
Pixel 7 Pro: UP1A.231005.007.A1
Pixel 7a: UP1A.231005.007.A1
Pixel Fold: UP1A.231005.007.A1
AT&T (US)
Pixel 6: UP1A.231005.007.A1
Pixel 6 Pro: UP1A.231005.007.A1
Pixel 6a: UP1A.231005.007.A1
Android 14 on Samsung, OnePlus, Nothing, and other Android phones will arrive later this year. Don't be surprised if it's sooner than you are expecting. Several companies are deep into beta testing, like Samsung, Nothing, and OnePlus.